Meeting the mountain Gorillas: The journey to Bwindi
www.lukemberman.blogspot.co.uk
Since I was 7 years old and my mum was a member of Dian Fossey Gorilla Fund International I have wanted to visit the mountain gorillas. I have finally had that chance and I would like to share my experience with you. Luke Berman
Part 1 – The Journey
It all started in Mombasa airport where an immigration lady was asking me some pushing questions about why I had extended my visa in Kenya and what was I doing. I wanted to say "What? You mean you don't like the fact I am boosting your country's economy through tourism while everyone else is staying away", but instead I opted for the more passive "well I love Kenya and wanted to see more of it". Both flights to Nairobi and then to Entebbe were under an hour, and after the take off (around 15 minutes into both flights) I was surprised they were serving drinks and even a light snack. Let's just say that with me sitting near the back by the time I received my tomato juice the stewardess was saying "please put your tray table up we are landing"; I don't even think the guys behind me got a drink.
I had a terrific sense of excitement as I landed in Uganda, especially as they had a large poster of the mountain gorillas as you go through the terminal. Meeting the immigration officer on this side was also interesting as on approach he said "Passport", then about 1 minute later "give me $50"; and visa is done. This was it I had begun my mini-adventure to live out a boyhood dream of seeing the mountain gorillas.
I was greeted by Agaba of A & A Gorilla Tours and my guide for the trip, Paul, both welcoming me to Uganda. After the short journey to our hotel we had a brief talk about the trip, dinner and then off to bed. Before going to bed I met one of the largest dogs ever (called Simba meaning Lion), but like all large dogs I have encountered he was a soft, soppy giant.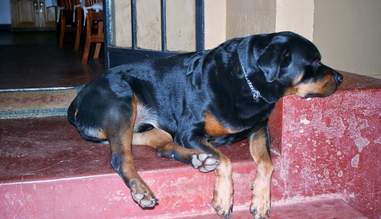 Up early the next day and as we were leaving Entebbe we saw the sun rise over Lake Victoria, which was nothing short of mesmerizing. At first I was dreading the 8-10 hour journey across Uganda, but Paul was a fantastic guide and made it into a safari ride using the landscape, towns, people and wildlife to entertain us as we drove along. I hardly slept on the way there and people that have driven with me know I love a good sleep in the car; but it was just so interesting.
For the first hour we were driving down a dusty, red clay road to avoid the heavy morning Kampala (capital) traffic, you could see all the red dust on the plants that lined the road; goodness knows what havoc that is playing on peoples lungs. On route we saw people making bricks using the clay soil, then piling it into a pyramid and lighting a fire underneath it to dry them. Paul told us about the two types of coffee grown in Uganda, common lowland variety called Robster and the more expensive variety grown in the highlands Arabic. Potatoes are called "Irish" as they came from Ireland, and they are the most expensive vegetable crop that farmers can grow; with sweet potatoes being the polar opposite; the cheapest. We then made it to the tarmac road that was a lot smoother to dive on and you could see far into the beautiful Ugandan landscape; a lot greener than where I am in Kenya.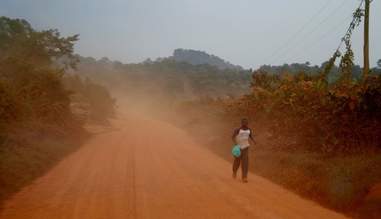 We passed some natural swamps with wild Papyrus growing that the locals use to make baskets and mats. Then Paul stopped suddenly and showed us a massive bird in the swap area called a Saddle Billed Stork. We only saw the bird as a local was hunting a small deer like animal. Quickly back on board and on to our first stop point, the Equator.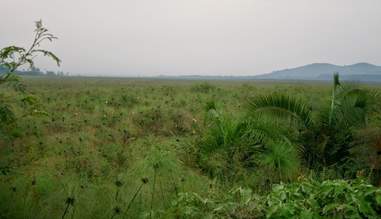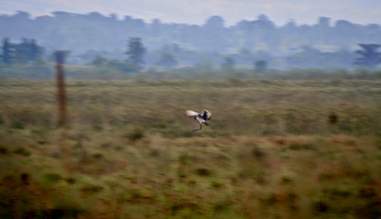 Arriving at the Equator point was quite interesting as you had a large ring you could stand in saying 0˚Latitude and a few tourist shops; but a little bit desolate. Regardless of that is was cool to be passing from the northern to the southern hemisphere; or to have one foot in each half. We saw a demonstration of the way water spins in each hemisphere and exactly in the middle. The three sinks were about 5 metres apart with the middle one bang on the 0˚ line. In the northern hemisphere the water span clockwise, in the southern hemisphere the water span counter-clockwise, can you guess what happened in the middle? Amazingly the water did not spin at all, just went straight down the hole, I was impressed.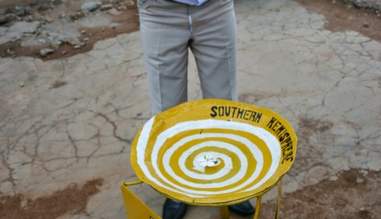 On the road again and heading towards Mbarara, which is the main town in western Uganda. We passed Lake Nabugabo, which is fed solely by Lake Victoria and is mined extensively for sand; explains why a new glass making factory is currently being built by the Chinese. As it was currently the dry season (June/July) people were delivering/collecting water for the villages and towns in yellow jerry cans; amazing how many people could get on a bicycle. At one point a funeral van sped past us with flashing red lights that must have doubled up as an ambulance; but they also advertised they did catering, chairs and tents; brilliant business diversifying. Their slogan could be "we bury you, we seat you, we feed you."
As we were driving through Lake Mburo National Park Paul pointed out that this was the smallest national park in Uganda, stretching a measly 364KM², but the only place Impala cold be seen in the country. Unfortunately the park now only had one lion left within its boundaries due to them hunting livestock. The farmers would poison meat killing practically all the lions. The lion was male and there are plans to re-introduce some females; so some hope yet. It is sad they feel the need to do this and kill such a magnificent animal.
I learnt that the Marahbu Stork (another large bird) has acid in its throat so strong it could turn metal into liquid. We stopped in Mbarara for lunch and also saw the Great White Pelican and the Crown/Crested Crane, which is the national bird of Uganda with the three colours of the flag; Red, Black and Yellow. I am starting to think all the birds in Uganda are supersized. Lunch was quick and delicious, I got to try the national dish Matooke, boiled and mashed green bananas with a peanut sauce; as expected it was delicious. I changed some money into Ugandan Shillings, it was so colourful, Pink, Blue, Yellow, Green and Red bills; the closest currency to look like monopoly money yet.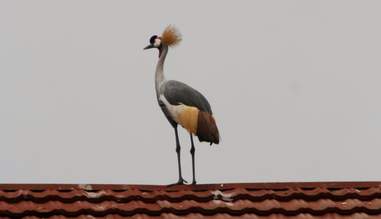 Finally after 9 hours we closed in on Bwindi and the landscape had changed from flat farmland into big rolling hills. The mist had increased, and a certain coolness in the air as we were climbing in altitude. Paul told us the reason Bwindi is called the Impenetrable forest is that 60% of it is inaccessible. As we entered the forest area you could clearly see the boundary between the cultivated farmland and the forest; thank goodness this forest is protected. As large trees started to engulf us I started to be overwhelmed with memories of seeing photos and video footage of Dian Fossey in areas such as this. I was actually here and the gorillas were now within my grasp, somewhere beyond those trees were half the remaining population of mountain gorillas in the world; around 440.
Of course Bwindi was not only home to the gorillas, there were birds, forest elephants, chimpanzees and the guereza colobus monkeys; which I had seen while coming down from Mount Kilimanjaro last year in Tanzania. It would be great to see...suddenly we stopped, Paul had spotted the colobus and sure enough there they were. They differ from the Angolan colobus that I am studying in Kenya, they have far fluffier backs and tails, and slightly larger/pointier heads. We had barely begun and one big tick already on the list.
Finally arrived at our lodge, lovely solar powered hot shower, then I went for a walk about the small local village area. No matter how far away the kids were they would shout out HELLO and wave non stop; it was lovely. A very nice dinner of beans, rice and veg and then outside sitting by the camp fire watching the night sky while being told stories in the local tongue through song. This place was truly unbelievable and the more I thought about it the more I realised it would probably be another night of little sleep; for tomorrow I was going to actually see the mountain gorillas of Bwindi.