Advertiser Content From
Meet Three Pups Not Letting Osteoarthritis Slow Them Down
In fact, they're thriving 💫
Advertiser Content From
If you're a dog parent, you're likely very attuned to any changes in their behavior, habits and general health. So when you start to see them looking uncomfortable, it's only natural that you do everything you can to get them feeling their best.
If your dog is suddenly struggling to get comfortable (think: changing positions all the time, shifting weight from side to side, having trouble getting up and down) or hesitating before doing normal activities like walking, sitting or climbing stairs, they could be showing signs of osteoarthritis.
While some breeds like Labs, golden retrievers, German shepherds, bulldogs and rottweilers are at a higher risk of developing osteoarthritis, it can affect dogs of any age and breed. The disease is most often caused by genetics and developmental orthopedic conditions that usually begin early in life, even when dogs are puppies.
But don't worry — there are ways to manage your dog's arthritis so they can live their best lives. Because arthritis can get worse over time, proactive, early management is super important when trying to slow its progression. Treating with a disease-modifying osteoarthritis drug (DMOAD) like Adequan® Canine (polysulfated glycosaminoglycan) can help manage the signs and is shown to treat the disease itself. Adequan Canine is the only FDA-approved disease-modifying osteoarthritis drug for dogs, and can help alleviate the pain associated with inflammation caused by arthritis.
Adequan Canine is recommended for intramuscular injection for the control of signs associated with non-infectious degenerative and/or traumatic arthritis of canine synovial joints.
For more proof that osteoarthritis doesn't have to keep your dog from enjoying life to the fullest, meet Bart, Reggie and Winnie — three pups living (and thriving!) with arthritis. Read their stories and then ask your veterinarian if Adequan Canine could be right for your dog.
Adverse reactions in clinical studies (transient pain at injection site, transient diarrhea, and abnormal bleeding) were mild and self-limiting. Please see additional Important Safety Information for Adequan Canine at the end of this article.
Bart: The Waggy-Tailed Enforcer
When asked what kind of dog Bart is, his dad, Tom, simply said, "Wonderful." The 115-pound mixed-breed is both a boisterous and serious boy, and has a reputation for being the sheriff of the dog park. "He's the guy that enforces the rules," said Tom. "New dogs come in and he is over there giving them a warning to behave." Bart is also a big fan of head scratches and belly rubs, and — rather surprisingly — he lives for his weekly visits to the vet. "Bart comes in and everybody just embraces him."
Since Tom runs a dog hydrotherapy business that provides swim therapy for dogs who are recovering from an injury, have a disability, or just need a fun fitness activity, he is especially aware of how osteoarthritis can affect dogs. So after Bart tore ligaments in both his knees, requiring tibial plateau leveling osteotomy (TPLO) surgery, his veterinarian started him on Adequan Canine to help manage his arthritis and slow its progression.
Because Adequan Canine helps keep Bart on the move, he's able to stay alert during his patrol sessions — both in his backyard and around the pool. Tom explained that Bart has a big voice and loves to use it. One of his favorite things to do is go out into the yard with his dad and "yell" at the rats who live in the fruit trees. He also loves to come to the pool while his dad is at work and, because he hates swimming, yell at other people and dogs to get the heck out of the water. And when he's not barking orders, Bart can be found exploring new trails and parks with his dad, and generally just living the good-boy life.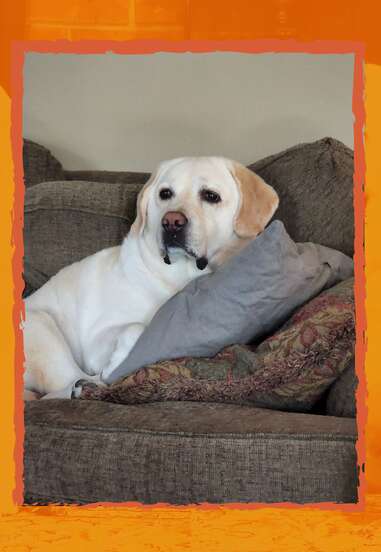 Reggie: The Hundred-Pound Lapdog
Despite being 100 pounds, English Lab Reggie thinks he's a lap dog — even at 6 years old, he still acts like a total puppy. According to Reggie's dad, George, he's a smart boy and understands a lot of what his mom and dad are saying. "He loves eviscerating toys with squeakers in them so he can trade for treats," George said. "He will actually save toys so he can make trades later. When he gets a treat he really likes, he gets so excited and gets the zoomies and runs and turns in circles."
When he was about 3 years old, Reggie started favoring his back right leg after he would play outside or go for his daily morning and evening walks. Because Reggie has had two knee replacements and congenital dysplasia, George took Reggie to his veterinarian who diagnosed early-onset arthritis and began giving him Adequan Canine.
"We definitely notice he does not favor his back leg nearly as much on days when we play a lot or are in the pool," explained George. "After a lot of activity, he will still favor his back leg when he gets up, but it is not nearly as bad as it was, and most of the time the discomfort is worked out quickly."
More than anything else, Reggie is the ultimate companion, especially for his mom, who spends the day at home chatting with Reggie. He also loves to bask in the sun while his dad is gardening or working on the sprinklers. "He's very content to be outside," said George.
Winnie: The Pillow Queen
Winnie (full name, Winchester) lives for luxury. According to Winnie's mom, Heather, after being rescued from China and introduced to her forever home for the first time, Winnie "very quickly decided that comfort is the name of her game. There is no amount of pillows too large for her comfort. She is always sitting on a lap, or we can't find her because she is up on the bed buried in pillows." And she certainly deserves it — in her life before being adopted, Winnie was kept in a cage, which led to physical issues like having a hard time sitting normally and being able to lower herself to the ground.
Heather decided to get Winnie TPLO surgery on each knee to correct damage done by torn ACLs. "Although that corrected the immediate problem, she still struggled with getting around normally," Heather said. After getting an evaluation by a pain management veterinarian, Winnie's arthritis was diagnosed and she started receiving Adequan Canine.
Heather said she quickly started seeing a difference in Winnie, especially in her ability to sit comfortably, go up and down the stairs and jump on and off the bed and couch. "That has led her to being even more insistent about climbing into people's laps, now that it's easier and less painful to do so."
Now that Winnie is rarin' to go, Heather says that this year, beyond defending her title as queen of the pillows, Winnie will be traveling to the Pug Roundup in Wyoming, a three-day pug rescue fundraising event, where she "will love just running around collecting food and pets."
Adequan® Canine polysulfated glycosaminoglycan (PSGAG)
Indications and Usage: Adequan® Canine is recommended for intramuscular injection for the control of signs associated with non-infectious degenerative and/or traumatic arthritis of canine synovial joints.
IMPORTANT SAFETY INFORMATION: Adequan® Canine should not be used in dogs who are hypersensitive to PSGAG or who have a known or suspected bleeding disorder. It should be used with caution in dogs with renal or hepatic impairment. Adverse reactions in clinical studies (transient pain at injection site, transient diarrhea, and abnormal bleeding) were mild and self-limiting. In post approval experience, death has been reported in some cases; vomiting, anorexia, depression/lethargy and diarrhea have also been reported. The safe use of PSGAG in breeding, pregnant or lactating dogs has not been evaluated. Caution: Federal law restricts this drug to use by or on the order of a licensed veterinarian. For additional safety information, visit AdequanCanine.com.
Note: While the dogs in this article showed positive signs of improvement, results may vary. Always seek the advice of your veterinarian.
Adequan and the Dog Head design are trademarks of American Regent, Inc.
PP-AC-US-0569