Among the millions and millions of creatures in New York City, there is but one Couch's kingbird. And great is his power, at least when it comes to drawing birders to a sliver of western Manhattan in late December. First spotted around Christmas Day, word of the kingbird's presence thrummed through the bird watching community and sent email lists a-twitter. Early Monday, according to DNAinfo, roughly a dozen bird enthusiasts had gathered to catch a glimpse of the bird, including a traveler from Fairfield, Conn., a few hours away.
It's the first time a Couch's kingbird has ever been seen in New York, wrote New York Audubon Society naturalist Gabriel Willow, in an email to The Dodo. It's possible the bird could adjust to Gotham life, he said, despite being so far from home. These birds, natives of Texas and Mexico, are insectivores. Bugs can be hard to find when the Northeast when the weather dips below freezing. "On the other hand, on a sunny day where the buildings block the wind, NYC is as good a place to find flies," Willow said. The birds eat berries, too, which gives the naturalist hope that the critter might survive the harsh temperatures. "It has apparently been seen feeding on berries in a backyard in the neighborhood, and thus might be able to take advantage of this resource through the winter, if it chooses to remain. Or it might head south."
Within their Lone Star habitat, kingbirds aren't particularly rare. But they're not long-range travelers, making the bird's arrival in New York all the more noteworthy. "The Couch's, being a subtropical species, doesn't need to migrate," Willow said. "So it's a mystery as to why this bird wandered so far north!"
It also helps that the kingbird has bright yellow feathers and looks like this:
By mid afternoon Tuesday, there were plenty of birds near the corner of Jane and Washington. Most were the usual suspects.
Seagulls squawked above the Hudson River.House sparrows hid among the shrubs.A fake owl stood watch over an apartment.And, of course, New York's practically-official mascot, a pigeon, was hovering near a manhole.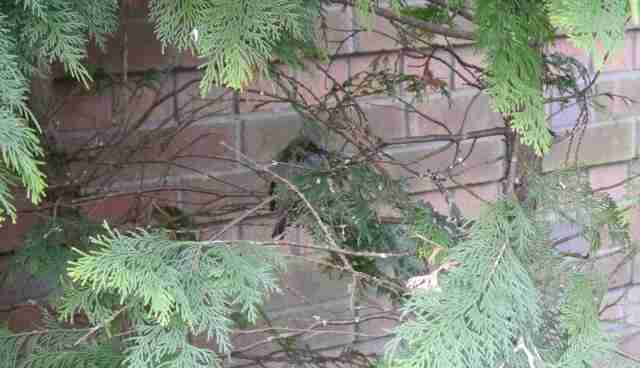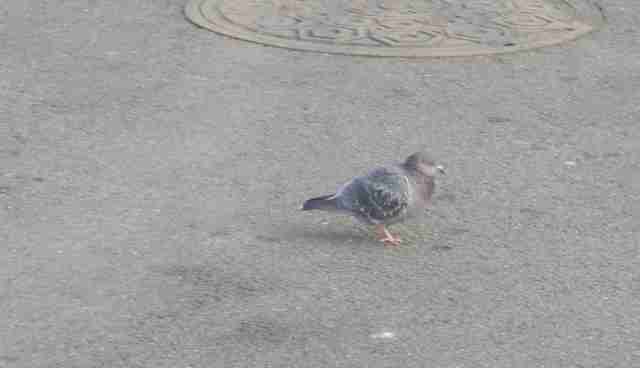 "Are you looking for the bird?" asked a passerby. "This is the place. My husband saw it sitting on a balcony." She gestured toward the apartment building overlooking the small group of trees that sprouted up in Washington Commons. Was her husband impressed by the kingbird's stunning yellow feathers? "Well, he's not much of a bird person."
When a Couch's kingbird holds court in a New York neighborhood, however, true birders show up. It was a half hour later - and still no sign of the bird - when Karl Holtzschue, a self-described "Central Park birder" who had been watching birds for 20 years, and equally knowledgeable avian enthusiast Kristine Wallstrom strolled into the little park.
They were full of assurances that this bird was extremely rare and very far from home. Holtzschue pulled out his copy of The Sibley Guide to Birds and thumbed to the entry for Couch's kingbird. On a map, the entirety of the bird's U.S. habitat was a tiny bruise of purple at the base of Texas, bleeding into Mexico. In those warmer climes, according to Willow, the kingbird is abundant. But this particular animal is the third recorded kingbird to travel north of Pennsylvania, he said. "We're sort of witnessing bird history in the making here."
Back at the garden, Wallstrom drew the little group's attention to movement on the balcony above - a mockingbird. Holtzschue readied his binoculars. The bird above was no Couch's kingbird, but he would do.