Meet The 16-Year-Old Activist Who's Leading The Fight To Free Captive Orcas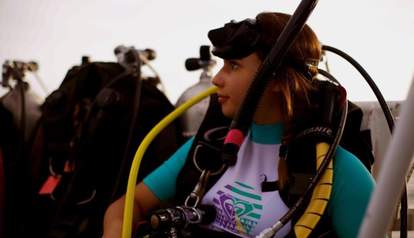 Ella Van Cleave is a prominent environmental and animal activist, known in certain circles for her thoughtful arguments against cetacean captivity with four years of activism under her belt. She's one of the foremost voices on the subject -- and at 16, she's also one of the youngest.
Van Cleave, a Tennessee native now living in Victoria, Canada, was first thrown into the world of activism at the storied age of twelve, when she saw the Oscar-winning documentary "The Cove," the film that exposed the brutal dolphin hunt in Taiji, Japan. Since then, the only career she's envisioned for herself is conservation. As she told The Dodo, that film "opened the floodgates" for her advocacy career.
"Since then, I've been heavily involved in supporting an end to cetacean slaughtering and captive holding for entertainment purposes," she said. "From there, you start to become aware that the particular issue you're advocating for is just a small piece of the puzzle, and once you get a glimpse of the larger picture you've seen enough to know that you can't just stop there, and that there will be a lifetime of work in all sorts of different issues ahead of you."
Those issues haven't been limited to just anti-captivity campaigns -- Van Cleave is interested in climate change and overpopulation as some of the most daunting challenges humanity faces today. She spoke about some of this during a TEDx talk at the age of 14:
"For starters, these topics are important to me because they should be important to anyone who would like to see human civilization continue to progress," said Van Cleave, who recently presented in front of an audience of orca researchers, conservationists and activists at a conference in the San Juan Islands in Washington. "Addressing climate change and overpopulation is about more than pleasing the tree huggers because everyone, regardless of ethnicity, political opinion or religion has something at stake here."
But for Van Cleave, who is about to enter her senior year of high school, the oceans are closest to the heart. "I believe that one of the biggest steps we can take to ensure environmental sustainability is to get a firm grip on issues that affect the oceans, namely ocean acidification, pollution, and over-consumption of aquatic species."