Africa's Grumpiest Cat Has The Best Life Ever
<p><a href="https://www.facebook.com/skabengaoysterbox" target="_blank">Oyster Box Hotel</a></p>
Despite a resting b*tch face that gives Grumpy Cat a run for her money, one lucky stray has managed to secure a life in the lap of luxury by capturing the hearts of staff and guests at the luxury Oyster Box Hotel in Umhlanga, South Africa.
Meet Skabenga.
His name means hooligan or vagabond in Zulu.
He lives at The Oyster Box Hotel, a five-star luxury boutique hotel just north of Durban, South Africa.
Over a decade ago, he wandered up from the Umhlanga Promenade to The Oyster Box's Ocean Terrace Restaurant. Guests loved sneaking him bits of delicious seafood under their table, so he decided to leave his days of chasing mice behind. Even though he may not exude the same air of warmth and hospitality as the staff, everyone grew to love him and he became a fixture at the hotel.
He's totally spoiled.
Skabenga often receives gifts of food, toys, and treats (including blinged-out collars from Doggie Hillfigher). Every October, The Oyster Box throws him a birthday party in their grand Pearl Room. Because the event is so well known in the area, the tickets sell-out almost immediately. The hotel treats the event as an annual fundraiser for local charities such as the Feral Cat Rescue Trust.
...Maybe too spoiled.
All those extra bits of seafood had an impact on Skabenga's waistline. Last year, Hill's Pet Nutrition South Africa offered to evaluate Skabenga's physique. He was subsequently put on a diet.
Despite his poor demeanor, hotel guests and visitors absolutely love him. Hotel General Manager Wayne Cotzer receives Skabenga fan mail from around the world.
All the attention has gone to his head.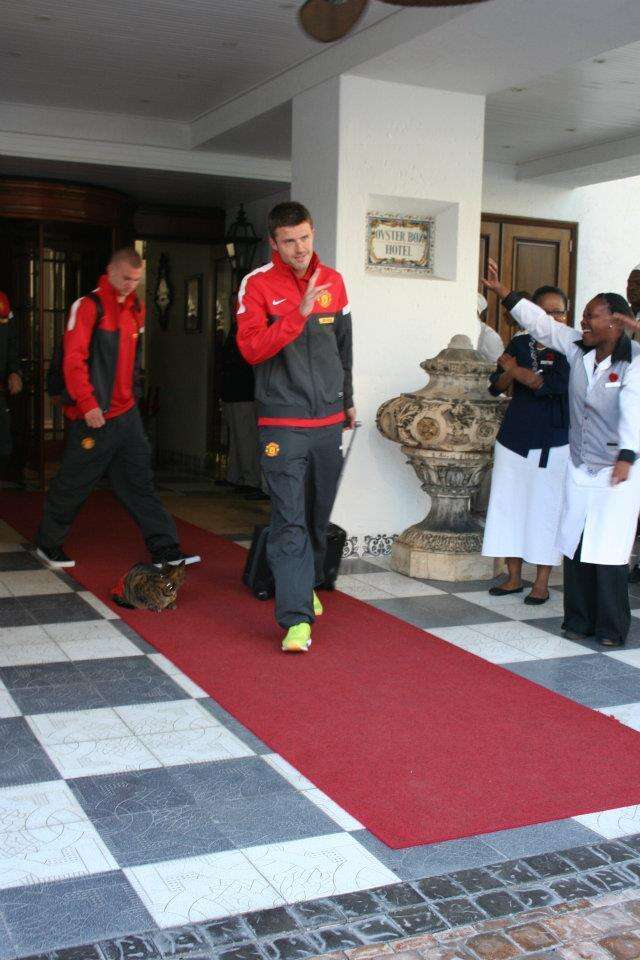 When the hotel rolls out the red carpet for VIP and royalty, Skabenga has been known to sit in the middle of the carpet as soon as the guests arrive. Whether it's Manchester United (above) or Prince Albert & Princess Charlene of Monaco, he loves to make it known that he's the 'top cat' at this hotel.
Like most celebrities, Skabenga is no stranger to scandal.
Earlier this May, Skabenga mysteriously disappeared. After missing a scheduled vet appointment, the hotel's staff turned to social media for help with locating their beloved feline. The Oyster Box's Facebook page was inundated with well wishes and requests to help with Skabenga's search and rescue. One week later, he was returned to the hotel by a good samaritan. The details surrounding his disappearance are still a mystery.
If you ever visit The Oyster Box, make sure to say hello to Skabenga.
I can't promise he'll be equally as thrilled to meet you.