Meet Ntombi. She's a black rhino-just six years old-living in the Limpopo region of South Africa. Her full name is actually Ntombazana, which means "little girl" in Zulu.
She's also a new mom. Just last month, she gave birth to a baby boy named Nyiko, which means "gift." The name, incidentally, is more than symbolic. Nyiko really is a gift. Nyiko and his mom are two of only 5,055 black rhinos left in the world.
At the turn of the 20th century, historians estimate one million black rhinos roamed the African savanna. And that's a conservative figure. Since then, rates of poaching have skyrocketed, driving three of the eight original subspecies into extinction. Rhinos are the victims of a lucrative illicit industry where their horns are worth more than both gold and cocaine, but their lives nothing at all.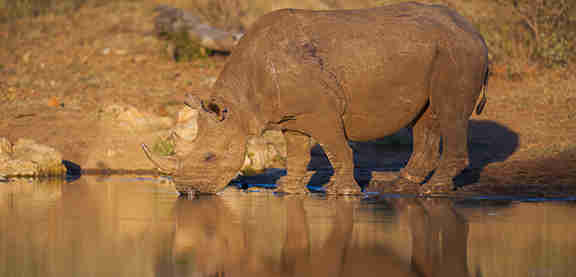 Unlike the Northern white rhino, a species of which there is only one animal left, the black rhino has hope. Amidst an epic battle between conservationists and poachers, Dr. Chuck Murray at the University of Washington is quietly leading his own crusade. He calls it 'conservation genomics.' Murray intends to sequence Ntombi's genome. A genome is an organism's complete set of DNA, a molecular code that contains all the information needed to build and maintain an organism.
Ntombi's DNA is a molecular code that unlocks an archive of everything there is to know about a more than 50 million years old species that witnessed the birth of the anthropocene.
Murray is dead set on making sure that the black rhino is not forgotten.
So, like many a man that came before, Murray is running a crowdfunding campaign to make what he calls the Black Rhino Genome Project a reality.
A sequenced genome is just the first step. The project is open-access, so the code will be published to the public. Ntombi's DNA will be the first in a biobank of genomic data for all 8 subspecies of black rhino. Conservationists, scientists, historians (anybody, really, Murray emphasized) can use the data to gain insight into the dynamics of this endangered species.
Hopefully, he said, it can give some satisfactory answers to key conservation questions. He doesn't want to get too carried away, but it's not too far fetched that this could be the beginning of dedicated de-extinction efforts for the black rhinoceros.