Traumatized Moon Bears Spent Life In Cages, Now En Route To Freedom
After 15 years in cages, the two moon bears at the center of the Ben Tre rescue were today given names for the first time.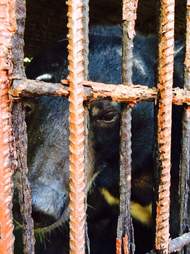 Photo: Animals Asia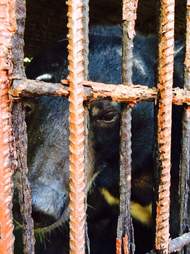 Nicknamed Yogi – after the cartoon character - and Coco - in homage to Ben Tre province's abundance of coconuts - the two bears were finally removed from cages for the first time since they were likely just cubs.

Under anesthetic, the bears received health checks before being moved into transport cages to begin a 2,000 kilometer (approx. 1,240 mile) journey to their new home.
Photo: Animals Asia
Male bear Yogi was found to be in worse condition, suffering from severely damaged teeth from gnawing at cage bars and a highly unsuitable diet.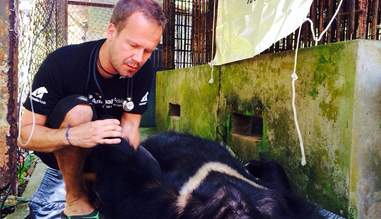 Photo: Animals Asia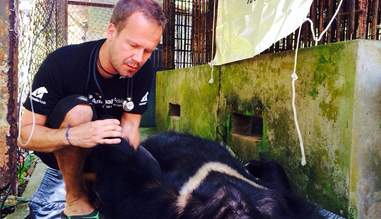 Animals Asia's Senior Veterinarian Joost Philippa said:
"Yogi seems quite underweight and will require extensive dental surgery once safely back at the sanctuary. His gall bladder too appeared clearly sickened on the ultrasound. We'll conduct a laparoscopy on both bears' abdomens when back at the centre to ascertain whether their gall bladders need to be removed."
Yogi is also suffering from clear scarring on his head as a result of repeatedly rubbing his head against the bars - an unnatural behavior common in stressed or traumatized bears.
There was small drama when female moon bear Coco suffered a seizure during her health check while under anesthetic. Thankfully, Vet Nurse Lisa Brailey and Senior Veterinarian Joost Philippa were well prepared and immediately intravenously administered a sedative which stopped the seizure immediately.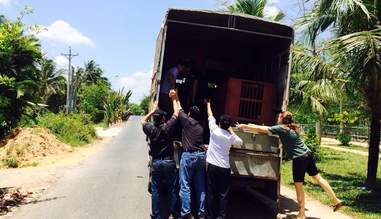 Photo: Animals Asia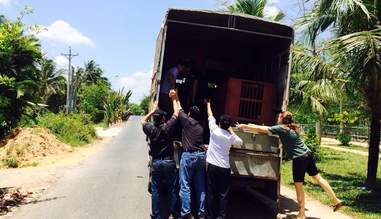 Coco's front left paw is missing, while Yogi is without his front right paw - a sure sign that both animals were poached from the wild.

As soon as both moon bears had recovered from their anesthetic they were fed a meal of pumpkin, watermelon and rice - possibly the first time they have ever tasted anything but rice congee.

The rescue team had expected to stay in Bien Hoa, but have pressed on and expect to arrive in Ba Ria City around 6:30 p.m. where they will spend the night.
The 2,000 kilometer journey back to Animals Asia's rescue centre in Tam Dao is due to see the team stop at Phan Rang, Danang and Vinh as they travel the entire length of Vietnam's famous coast.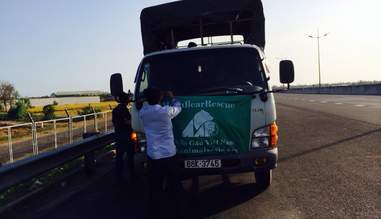 Photo: Animals Asia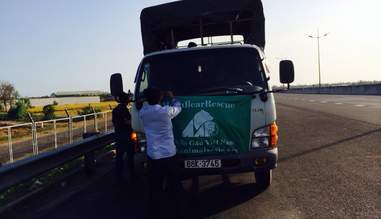 The two moon bears were voluntarily handed over to Animals Asia by the ex-bear farmers with the help of officers from the provincial and central Forest Protection Department.
Animals Asia's Vietnam Director Tuan Bendixsen said:
"The bear bile industry is dying out in this country, and ex-farmers are finally moving on to other industries. This family has done the right thing by the bears and the right thing by the laws of Vietnam in handing their bears back to the authorities."