Smudge, a four-month-old moon bear cub born on a bear bile farm in Nanning, China was rescued after the farm's owner turned his property over to an organization dedicated to rescuing bears. Animals Asia recently took over the bile farm to turn the facilities into a moon bear sanctuary. The 130 or so bears that they're now rehabilitating are the lucky bears -- most from bear bile farms have been kept in horrendous conditions, trapped in tiny cages from birth and farmed for their bile. Now, bears like Smudge get to rehab with a paddling pool, stuffed teddy bear, climbing frame and straw bedding. There's a lot to learn in the transition....like.....
... is this for eating or rolling?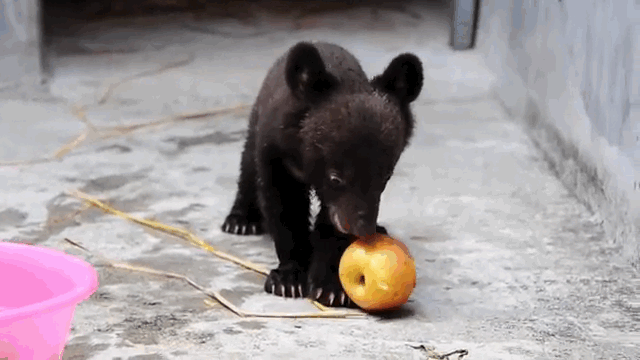 ... can I take a bath with it?
... can I eat it while I'm in the bath?
... is this what ticklish means?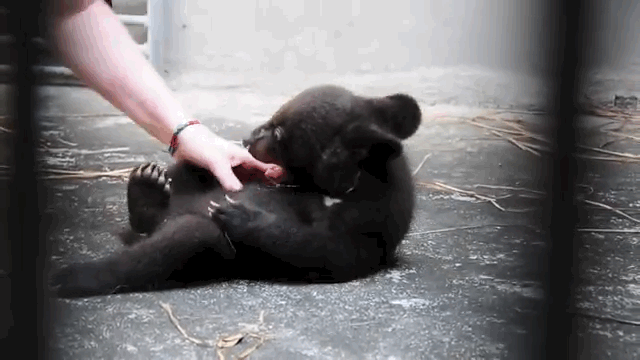 ... am I learning the ropes now?
... and all that's cool, but can you help me up?
Watch the full video here. For more information on the bear sanctuary, go to here.
In China and Vietnam, more than 12,000 bears are kept in cramped cages and under terrible conditions so that they can be farmed for their bile. Bile extraction is painful and can lead to infection, tumors and death. Join @dodo and me in calling for the end to bear bile farming and #SaveBileBears!