This Cat Wears Hats To Spread The Sweetest Message
"Everyone loves him."
Max the cat went to the pet store to pick out some toys. Because his back legs don't work, he was in a sling, as usual, being carried by his adoring foster mom Joyce Chiro Moyer.
While browsing the aisles, Moyer spotted a little bow tie. It was "adorable," she tells The Dodo, "so I put it on him."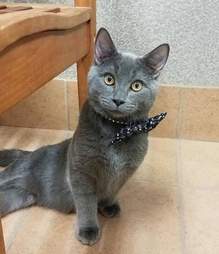 That's when Moyer discovered that in addition to being a handsome, charming, loving, happy little boy, Max was utterly content to be dressed in funny costumes.
She started picking up hats and costumes made for small dogs, or dolls, and embellishing them, or making new ones from scratch, "and whenever he goes out he wears one," Moyer says. "He is a real Cat in the Hat."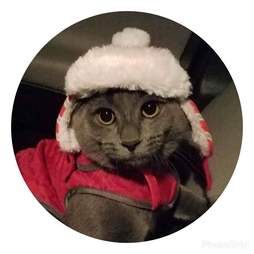 Joyce Chiro Moyer
Max was just a kitten when he lost the use of his back legs.
He'd been living with a loving family in New Jersey. One day during a vigorous play session, the family dog smacked Max on the back with a paw. The kitten was unable to get up.
Max spent five days at an emergency veterinary hospital, being treated for a spinal cord injury and partially collapsed lung.
The family's veterinarian told them that Max's prognosis was not promising. Even with costly treatment, the young cat was unlikely to walk again, and would never be able to urinate on his own; he would need his bladder "expressed" for the rest of his life. The vet offered to humanely euthanize Max.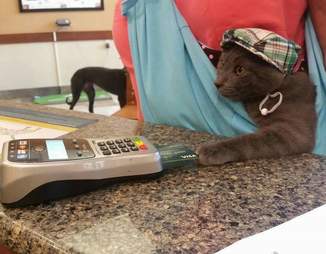 Joyce Chiro Moyer
Before accepting that option, a member of the family reached out to Moyer, founder of Joa's Arc Special Needs Animal Rescue. In an email, she explained that Max's people were "heartbroken."
"He has such spunk that it breaks my heart to think we would have to end his short life, unfortunately we are not in a financial situation where we could properly take care of his needs," she wrote. "Is there any other alternative you can offer us?"
A photo was sent along with their note, which the nonprofit's board members found unable to resist. Max was 10 weeks old, and would get a second chance.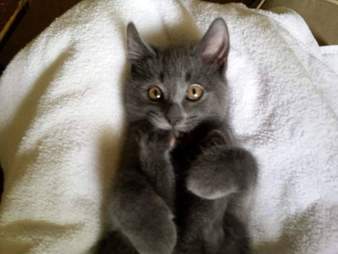 Joyce Chiro Moyer
At the end of June, Max came to live with Moyer as a foster.
He's spent the year undergoing diagnostic tests and treatments - as well being adored, playing, watching bird videos on the iPad, making friends with Moyer's two dogs, visiting the Easter bunny, and, of course, taking a lot of trips to the store for toys and fresh outfits.
Joyce Chiro Moyer
After all his time at the vet, Max still can't walk - he may never walk - but he can scoot around like a champ. He must be on a strict routine every day - food at the same time every morning; having his bladder expressed 30 minutes later.
But Max loves his life and life loves him right back.
"His accident was unfortunate but we have to look at the bigger picture and see beyond his disability," says Moyer. "We don't want anyone to feel sorry for our animals because they don't know they are different. Their determination is amazing to watch and admire."
Joyce Chiro Moyer
Max is also the perfect guy to help educate folks about special needs pets.
Wearing his hats and other duds out in public, he's constantly approached by people wanting to give him a pet and a kiss. He is, Moyer says, "a ham and loves the attention."
Joyce Chiro Moyer
In return, Max's admirers see that "just like humans, animals have issues, too," she says. "All the people we engage are thankful for what we do. They may not want to adopt a special needs animal but they are grateful that others do."
Joyce Chiro Moyer
Max will be going up for adoption soon.
Moyer will be looking for a family committed to caring for this cat for his whole life - who can abide his routine, and who "will accept him as he is."
Which is to say, as a joyous, well-dressed, partially-paralyzed cat who draws people to him like a magnet.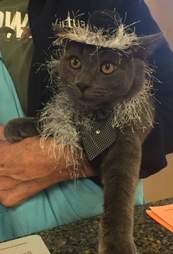 Joyce Chiro Moyer
"When you look at Max's beautiful face, you see golden eyes that shine, eyes that touch your heart and eyes that are grateful to be alive," says Moyer. "Everyone loves him."
Of course, those shining golden eyes are usually framed by a pretty hat. Max's new family will get to enjoy that, too. His impressive costume collection, Moyer promises, will be coming along with.
Joyce Chiro Moyer