Oil Company's 'Exploration' Means Death Sentence For World's Rarest Dolphins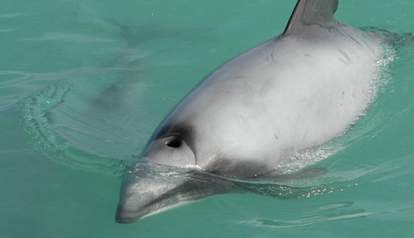 <p>NOAA Photo Library</p>
New Zealand's government is allowing for oil exploration in the sensitive habitat of the "rarest marine dolphin in the world," outraging conservationists.
The Maui's dolphin is a subspecies of the Hector's dolphin found off the coast of New Zealand's North Island. There are just 55 of them left and of those, just 15 breeding females. The critically endangered subspecies is also the world's smallest dolphin.
That's why it came as a shock to many conservationists when the government granted Chevron NZ Exploration three offshore licences for an area over 10,000 square miles - about the size of Maryland.
New Zealand Greens co-leader Russel Norman said that the plan, which actually involves part of a sanctuary created for the species shows that the government is "intent on driving the Maui's dolphin to extinction." The West Coast North Island Marine Mammal Sanctuary is the main habitat of the Maui's dolphin, but that sanctuary was opened for oil drilling by the government last June.
But now, some fear that seismic surveying could mean a death sentence for the species. Because dolphins get around by using echolocation, acoustic disturbances can essentially "blind" them, leaving them defenseless to predators or driving them to the beach. In fact, seismic surveying, which involves using reflected sound waves to produce a view of Earth's subsurface, has been linked with whale and dolphin strandings and deaths in the past.
"It is simply reckless to endanger the survival of the world's last 55 Maui's dolphins by giving the green light to oil exploration in the dolphin's core habitat. Seismic surveying is known to pose great risks to whales and dolphins around the world, and does not belong in the waters where Maui's feed, breed and swim," says Peter Hardstaff, WWF-New Zealand's Head of Campaigns.
Hardstaff is calling on the government to ban set net and trawl fishing, two destructive fishing practices that have contributed heavily to the decline of the Maui's dolphin, and to place a moratorium on marine exploration and mining.
See this page for more information on how to help save the world's rarest dolphin.