This month, at a sprawling sanctuary in South Carolina, an ape named Maui celebrated his 26th birthday.
Not that he wanted anyone to make a fuss about it.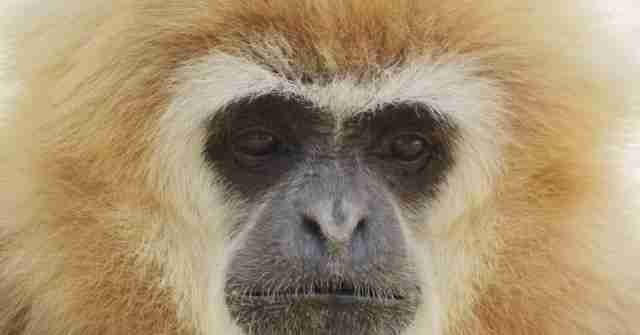 You see, while staff at the International Primate Protection League (IPPL) sang "Happy Birthday" at breakfast on December 8, they were careful not to disrupt the gibbon's daily routine.
Over the years, Maui has made it very clear he likes nothing more than routine. Just baked potatoes every morning, please.
"Sweet potatoes. Not just regular potatoes. Every single morning," Shirley McGreal, founder of IPPL, tells The Dodo.
And the rest of the day clambering on ropes with his best friend, another gibbon, named Speedy.
With maybe a break here and there to tinker with a super-secret invention involving plastic tubes.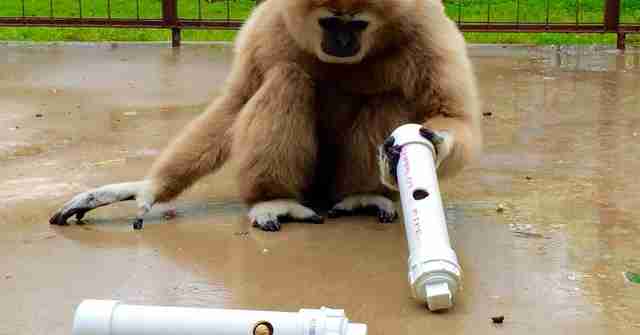 What's a day on the calendar to an ape who's been savoring every second of sanctuary life since he was rescued from a crumbling zoo in 1996?
Maui is among 37 gibbons at the sanctuary - the only refuge in the U.S. dedicated strictly to the primates.
But that's about where the strictness ends. Maui, like his friends, are free to while away the day any way they want to.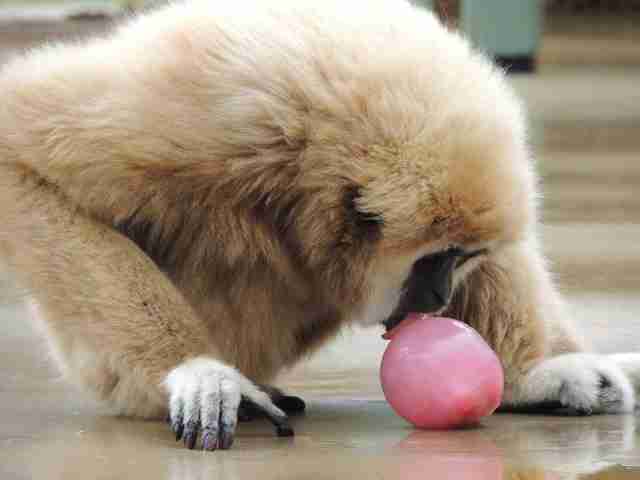 It's a far cry from his old life at the Maui Zoo.
"The zoo life compared to sanctuary life is completely different," Meg McCue Jones, senior animal caregiver at IPPL, tells The Dodo. "We're not getting the normal stressors like the animals would get at a zoo. They're not being gawked at. People running around. People yelling. It's a pretty low-stress environment here."
Before the zoo closed its doors in 1996, Maui - along with his mother, Jade, and father, Palu-Palu - were little more than exhibits.
Just things to be gawked at for the price of admission.
When the zoo shut down - McGreal says over animal welfare violations - the sanctuary negotiated to take the entire family.
Today, Palu-Palu and Jade are still living at the same sanctuary - but not in the same enclosure, since gibbons, like humans, look to kick out their children when they become teenagers.
The sanctuary is home to more than zoo refugees. There are former lab animals here too, as well as gibbons who survived attempts to turn them into pets. And while the average life span of a gibbon in the wild is around 25 years, many of these residents live much longer. Some have even reached well into their 50s.
None of them look a day over 18.
"Gibbons have a benefit over us humans," McGreal says. "They don't look old."
They don't even get wrinkles. They don't go gray.
Maybe it's because they don't give a lick about birthdays.
But at 26 years old, Maui is a testament to the rich, beautiful life an animal can have when he's left to be what he was born to be.
So happy birthda--- Errr... have a good day, Maui.
If you would like to support the International Primate Protection League in its mission to save gibbons around the world, consider making a donation.