Porcupine Chills All Day With Dogs, Is Positive She's One Of Them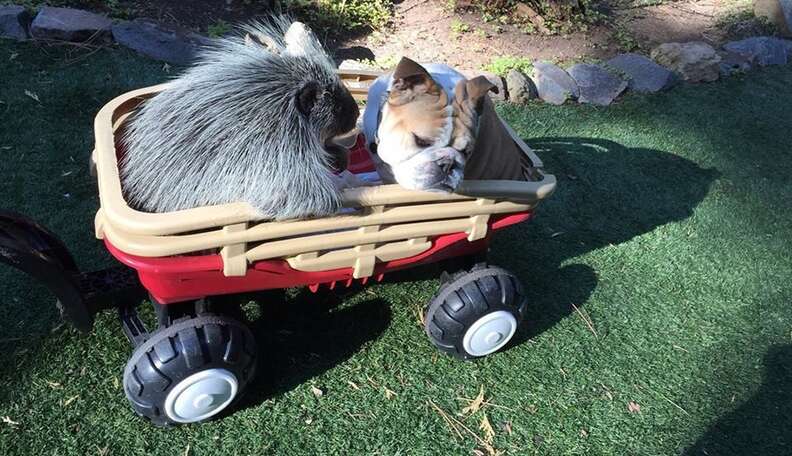 <p>Ann Bryant</p>
<p>Ann Bryant</p>
It's pretty hard not to fall in love with this porcupine and her adorable canine duo.
Maude is the star of the BEAR League's Facebook page. After all, she's the beloved pet of the league's founder, Ann Bryant.
The two-year-old porcupine is also best friends with not one, but two bulldogs, named Bitsy and Mosey. Bryant told The Dodo that it isn't unusual to see Maude take them out on walks (that's Mosey in the video) ...
... or even follow them along in her sweet wagon ride.
Bryant, who was a wildlife rehabilitator before she founded the BEAR League, got her first porcupine about 19 years ago. His name was Marvin. Since he was unable to be released back into the wild due to injuries he had after being ran over by a car, Bryant became his permanent caretaker. The two remained close until he passed away from cancer.
Then one day, Mia came along.
Bitsy, Mosey and Mia.Ann Bryant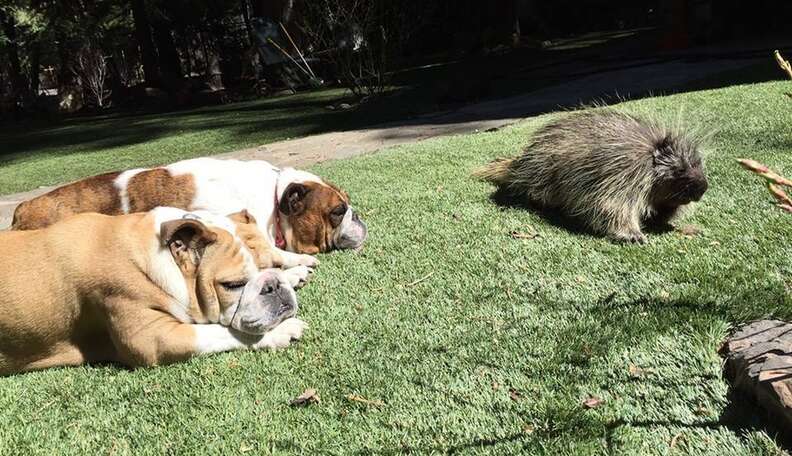 "It'll be about three years ago this May, someone brought in an injured female [porcupine]," Byrant said. "I had her in a crate in the living room - I was trying to make her feel comfortable and safe. She had a neurological disorder and was very out of it. But she was here for about three days and I didn't know it, but she was pregnant."
On the third night, Bryant found Mia had climbed out of her crate and sat next to a small, black, wet ball on the floor who turned out to be none other than baby Maude.
Since Mia had a neurological disorder, Bryant ending up taking care of both Mia and Maude. Mia sadly passed away last August, leaving Maude with the only other mother she has ever known.
"Because she's so friendly and was raised in a home, she would go up to dogs if I tried to release her," Bryant said. "So she is under permanent care and lives here ... [Maude] goes with me to a lot of places. I think she thinks she's a dog."
Maude and Bitsy. Ann Bryant
Bryant said Maude has never had any trouble with her canine friends, who are like brothers to her.
"They've grown up together," she said. "The dogs have always had porcupines in the house. When Maude was born, they were here, so they just think that every house has bulldogs and porcupines in it. They're family, they get along really well. They respect each other, they care about each other."
As far as Maude and the bulldogs know, their side-by-side existence is completely normal.
"They sit on the couch together and sometimes lay side by side," Bryant said. "They cuddle. They don't think anything is weird about it because that's all they've ever known."
Maude and Bitsy.Ann Bryant
To see more sweet photos of Maude and the gang, along with more information on how BEAR League works to keep wildlife safe in their natural habitats, follow them on Facebook.