Sick Baby Pig Abandoned In Field Gets Her Very First Bed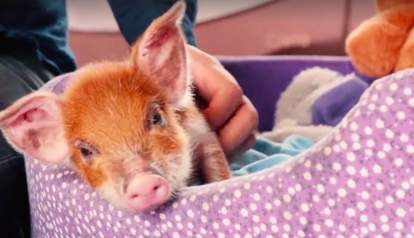 <p><a href="https://www.facebook.com/santuarioigualdadinterespecie/videos/vb.690199137714511/950052061729216/?type=2&theater">Facebook/Santuario Igualdad Interespecie</a><span></span></p>
From the way Matilda loves to play today, it's difficult to tell that two weeks ago, she was fighting for her life - without much help to save it.
But now she's the happiest little piglet and the newest arrival to Santuario Igualdad Interespecie, a sanctuary for rescued farm animals in Chile.
Matilda was born in a small field in the south of Chile. Had she been born healthy, she would have been slaughtered at about 6 months old. But Matilda was born weak and very ill, and her owners saw no point in nursing her back to health - it was considered a waste of money, according to the sanctuary, which recounted Matilda's story in a Facebook post.
So, Matilda's owners left the piglet to die. Without any medical help on the way and an inability to feed from her mother due to her weakness, Matilda's future appeared bleak.
But then help came in the form of a couple who happened to be visiting their families in southern Chile. During their travels, they stopped by Matilda's home, saw that she was ill and asked her owners what was wrong. After learning about her fate, the couple decided to take matters into their own hands.
At the very least, they wanted to give Matilda a chance to live a more dignified life, even if her chances of survival were slim. The couple got in touch with the sanctuary, whose staff traveled to pick up Matilda.
For the first several days, Matilda was unable to stop coughing, let alone stop shaking out of fear. However, just four days after her arrival to the sanctuary, Matilda was completely transformed into a different piglet.
Around-the-clock care brought her back from the brink of her illness, and she finally was able to run around, no longer afraid ...
Finally, she's getting to live her best life - filled with warm blankets, tiny sweaters and stuffed animals.
See Matilda's first moments of happiness in good health and in good spirits:
Want to help the sanctuary continue doing good work for rescued farm animals? Consider making a donation here.