Martin Sheen's Big Move To Save Ocean Life
<p><a class="checked-link" href="http://commons.wikimedia.org/wiki/File:Adult_Humpback_Whale_breaching.jpg">Gillphoto/Wikimedia Common</a>s</p>
Actor Martin Sheen is the latest celebrity to defend ocean life, as he'll be on site to unveil a new vessel for the conservation group Sea Shepherd this week. Sheen will appear in Marina Del Rey, Calif. to christen the new ship and announce its name. Capt. Paul Watson, Sea Shepherd's founder, will also be speaking.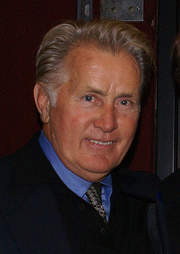 (Brian McGuirk/Wikimedia Commons)
Sheen is the latest in a slew of celebrities to join the organization's campaigns against Japanese whaling, whaling in the Faroe Islands, dolphin slaughter in Taiji, Japan and others. In September, actress Shannen Doherty flew to Taiji to witness the dolphin slaughter herself, calling it an "eerie" experience.
Sea Shepherd's vessels are often named after prominent donors who are also animal welfare activists like Bob Barker, Brigitte Bardot, Steve Irwin and Sam Simon all have ships named after them.
Sheen has been a known animal and environmental activist for years. Just last summer, he announced that he'd be starring in Animal Planet's first-ever scripted show, a two-hour prequel to "Moby Dick" called "The Whale." The film, co-produced by the BBC, is set from the whale's point of view and focuses on the disturbing history of whaling.