Trapped Orangutan With Gunshot Wound Is Rescued Just In Time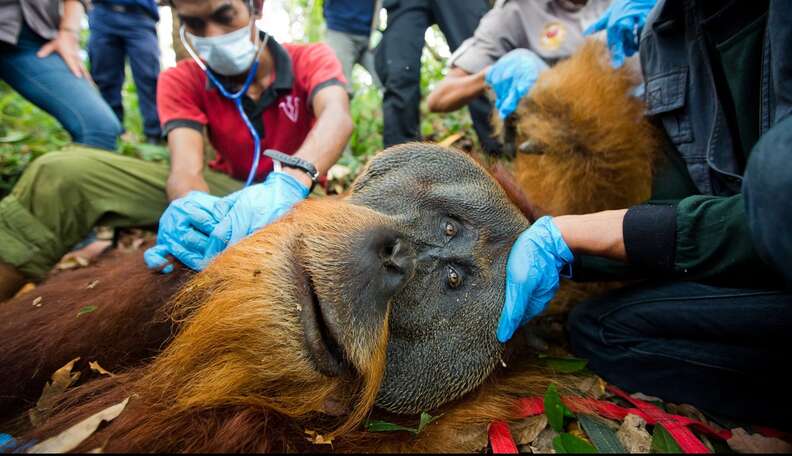 After being shot in the chest, marooned in a tiny forest patch and left for dead, a critically endangered Sumatran orangutan was brought to safety in Indonesia last week.

Villagers alerted authorities to the ape's presence in the forest, and a team of rescuers set out Friday to relocate the doomed animal, who was in the way of developers looking to expand palm oil plantations.
"During our patrols we found the orangutan trapped in the last cluster of native trees for miles around," said a rescuer named Krisna, from the Orangutan Information Centre (OIC), in a release. "With no safe way out he was extremely agitated and looked malnourished so we had to act fast."
As they worked to save the unlucky animal, the noise of chainsaws echoed through the forest. Thousands of acres had already been demolished to make way for palm oil and rubber plantations, or huge tracts of planted trees that make miserable homes for orangutans and other wildlife. The only thing remaining was a tiny patch of forest, and in it a solitary resident: a large male Sumatran orangutan, one of only 7,300 left in the world.
The team named the orangutan Friday, having performed the operation on Good Friday. It was not an easy rescue, they reported. First, the fast-moving and agile animal had to be sedated so that they could apprehend him.
"There was a serious risk of injury when he finally fell from the canopy," said OIC director Panut Hadisiswoyo in a statement. "His body did hit a branch on the way down, but the team moved fast to get our specialized net in the right position to catch him 15 metres [50 feet] below. He was really lucky."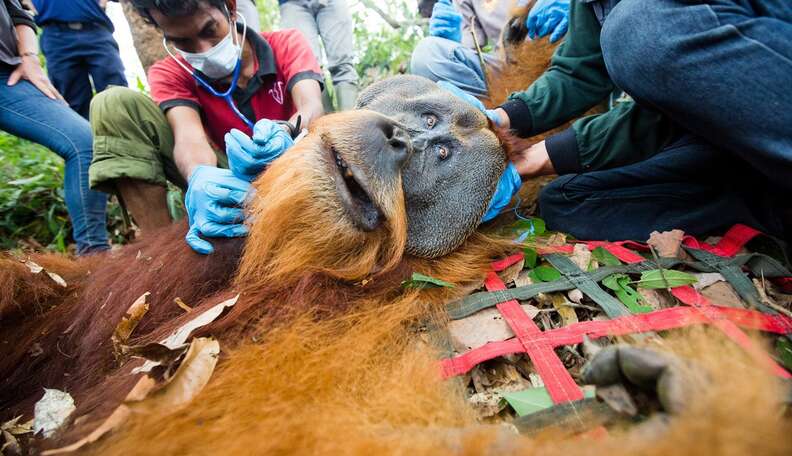 Friday was malnourished, because much of his food source had been wiped out when the forest was cleared for plantations. Even worse, a veterinarian discovered and removed a bullet in his chest - unfortunately, not an unusual find for orangutans near palm oil plantations. Orangutans can be shot by poachers who want to trade their parts, or by palm oil workers who want to develop their habitat.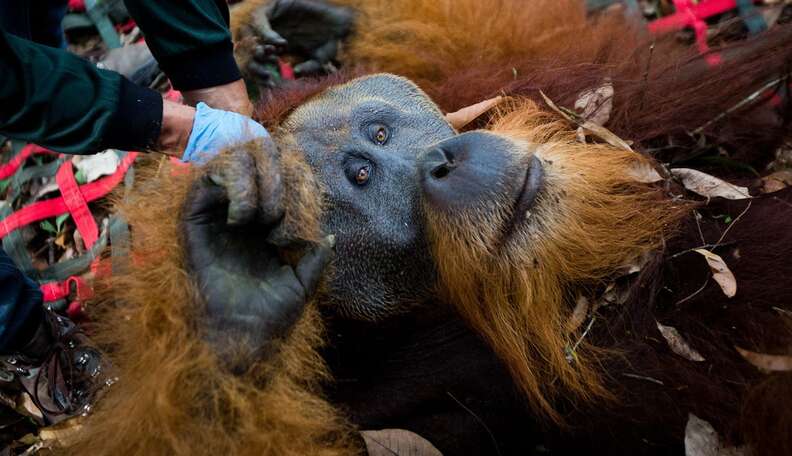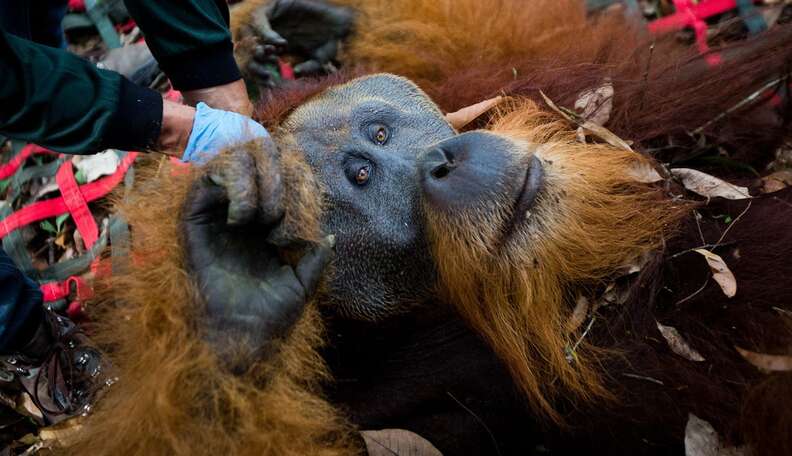 Fate spared Friday this tragic ending - but just barely. The team drove him in a truck until they finally reached the Leuser Ecosystem, a massive forested area.
"As soon as Panut lifted the door of the crate, Friday's massive hand emerged to hoist himself up the nearest tree," Krisna said. "Within seconds he had scaled it and was looking down on the rescue team, shaking branches and vocalizing to drive us out of the forest."
What's more, the government of the Indonesian province of Aceh, which owns a large chunk of the tenuous region, is pushing plans to open up parts of it to mining, logging and, of course, palm oil plantations. This development threatens to rip up the forest, pushing its inhabitants - elephants, rhinos, tigers and orangutans - to extinction.
Palm oil is a lucrative and omnipresent product, used in hundreds of everyday items, from lipstick to shampoo to ice cream to bread. See this page for information about which products have palm oil - or rather, which products are helping to wipe out the world's last remaining orangutans.