Dog Saved From Afghanistan Locked Up For Protecting His Boy
You might forgive Marley for being a little skittish around guns. He did, after all, grow up in war-torn Kabul, Afghanistan.
Specifically, in a trash heap.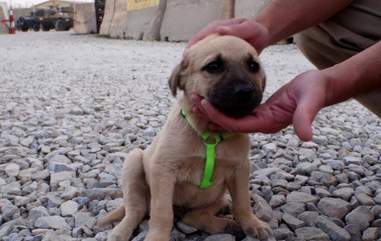 Johnothan Jones
In 2011, Johnothan Jones, a military veteran who was doing private contract work at the time, ended up taking him home to his family in Florida.
Johnothan Jones
And Marley, who is another kind of war veteran, found the peace that had eluded him for most of his life - surrounded by a family who adored him.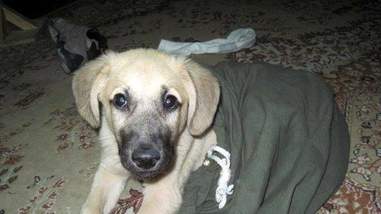 Johnothan Jones
But for Marley, it seems, a gun is a gun. Even a toy gun. So when Jones' two boys, aged 5 and 15, were playing cops and robbers in the house, Marley sprang into action.
Johnothan Jones
The older boy, Taylor, was wearing a mask and brandishing a toy gun. Marley bit him several times - in his hands, arm, shoulder and side.
"Marley thinks Taylor was hurting his brother and he intervened to stop it," Jones tells The Dodo.
As Jones and his girlfriend weren't home, an understandably disoriented Taylor went to a neighbor's house.
Another neighbor saw the boy bleeding and called animal control.
"Honestly, I really don't blame her," Jones says. "It's a very emotional situation. Taylor looked bad. He was just bitten by Marley."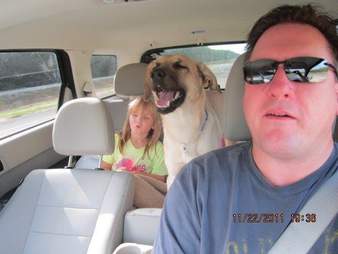 Johnothan Jones
At the hospital, a doctor recommended just Neosporin and Band-Aids. But no stitches.
The next, morning animal control officers placed a quarantine order on Marley, confining him to the family home for the next 10 days for observation.
But then, on the tenth day, just after the quarantine ended, Marley and Taylor started wrestling over a dog toy.
Marley jumped on Taylor's back, opening the old wound on his side.
And the same neighbor who called animal control 10 days earlier picked up the phone again.
Not long after that, Marley, who had been in the country for four years without any incidents of aggression, was being whisked away to Bay County Animal Services with an order to be euthanized hanging over his head.
Jones quickly filed an appeal.
A local magistrate sided with Jones. There were more appeals. The county insisted on the death penalty. Jones fought the 'dangerous dog' designation.
In fact, Jones, a former deputy sheriff, says Florida law is unequivocally on his side, citing statute 767 12b.
"It clearly states in that statute that no dog shall be deemed dangerous if he is protecting an owner or family member against abuse, torment or assault," he says.
Amid all the legal wranglings, a dog born in a garbage heap in Afghanistan has spent 10 months of his life in a county kennel.
Marley could have come home in June, eight months into his incarceration - and some say the blame for his extended lock-up lies with his owner.
"I was extremely upset to find out that Marley could have been taken home months ago," Bay County commissioner Guy Tunnel wrote in an email obtained by News Channel 7.
County officials have not returned several requests for comment.
For his part, Jones says Marley's release could only happen if he fulfilled every requirement from a long list the county presented him with.
"People don't understand all the costs and hurdles we're going through," Jones says. "That's what's frustrating."
Johnothan Jones
Jones says he faces a laundry list of expensive to-dos before he can reclaim Marley from the county - which is why he wants the "dangerous dog" designation removed before Marley comes home.
Among the requirements, a tall fence and insurance.
"Homeowner's insurance doesn't want to cover us because we have a 'dangerous dog' living in the residence," Jones says.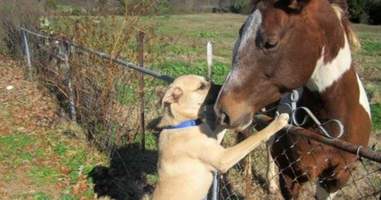 Johnothan Jones
Then there's the cost of housing Marley for the last 10 months. If Jones doesn't win an appeal to remove his dog from the 'dangerous' designation, he will be on the hook for thousands in kennel fees.
It all adds up to a legal process, he says, that pushes dog owners toward making a dark decision.
"They stack the obligations so high, most people - I would say 99 percent of most pet owners - sign their dog over to animal control as a forfeiture and the dog is killed," he says.
"They don't really have a choice. People don't have $3,000 for an attorney. They certainly don't have another $8,000 to $10,000 for an appeal. Plus paying for the kennel fees."
Johnothan Jones
So, while a GoFundMe page set up to help Marley's legal battle has collected around $15,000, Jones says the funds have already been allocated - and come up short.
"We have $10,000 plus in current legal bills to, which the GoFundMe has been put towards," Jones explains. In addition, the family is working with a trainer to rehabilitate Marley after his long stint in isolation.
And there's still a living being at the center of this legal odyssey. Marley remains in quarantine at Bay County Animal Services, where he gets visits once or twice a week from his family.
He otherwise exists in a kind of legal limbo - free to go home, according to authorities, but with a family who can't take him back yet.
All because of a label.
If you would like to let Bay County Commissioner Guy Tunnell know how you feel about Marley's situation, you can reach him here.
You can also sign a petition asking the county to remove Marley's dangerous dog label here.