Mark Ruffalo, Paul McCartney Push Tangible Way To Tackle Climate Change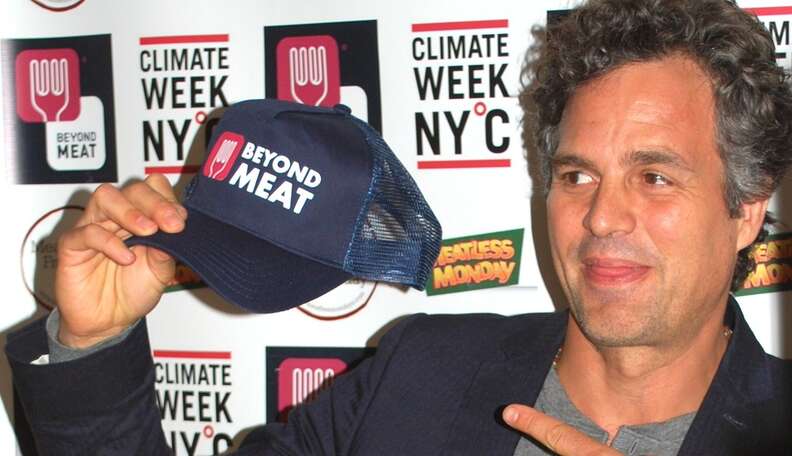 <p>Sogoal K. Zolghadri</p>
The world is connecting the dots between meat production and climate change.
Over 400,000 people flooded New York City's streets on Sunday demanding climate change awareness, and the meat industry's carbon footprint was not lost on many of the activists: The livestock sector contributes 14.5 percent of all human-induced greenhouse gas emissions, according to a United Nations Food and Agriculture Organization 2013 report.
The dots were further connected by celebrities and politicians in a brunch promoting Meatless Mondays ahead of the United Nations Climate Summit.

People's Climate March held in New York City on Sunday, September 21. (Photo: Zelman)
Actor Mark Ruffalo is a practitioner of Meatless Mondays with his family, and embraces the opportunity to explore foods from less meat-centric cultures. He suggested to the crowd dining at New York's Ritz Carlton Hotel on Beyond Meat dishes that he hopes the movement expands to "Broccoli Tuesdays and Rice Wednesdays!"
Sir Paul McCartney urged attendees in a pre-recorded video to join the movement with a meatless pledge, and released a lyric video for the Meat Free Monday campaign featuring other celebrities including Woody Harrelson and Twiggy:
Amid the global financial crisis, terrorism threats and other challenges capturing the attention of global leaders, the climate crisis still "needs to be tackled urgently," Greg Barker, MP and Climate Advisor to the U.K. Prime Minister, told The Dodo. He launched the Meat Free Pledge with McCartney, and feels that going meatless for one day is a tangible way that members of the public can "do something that is more than just a token gesture."
When a family of four skips steak one day a week for a year, it's like taking their car off the road for three months, Environmental Working Group suggests.
It's "aspirin for the environment," founder of The Monday Campaigns Sid Lerner told The Dodo. What began as a health initiative quickly grew to include everyone from "animal rights-type friends" to "Paul McCartney with global warming, so it's now a banner that covers many people."

Mark Ruffalo, actress Lily Cole and Greg Barker. (Photo: Sogoal K. Zolghadri)
The movement has even gone global, from "Jangsem Monday" in Bhutan to "Lunes sin Carne" in Bolivia.
Incentives to go meatless range from health to animal welfare concerns: Red meat is linked to a higher risk of chronic diseases, and approximately 9 billion farm animals are killed each year in the U.S. alone.
Motivations vary, but science suggests both animals and the climate could win by going meatless for a day.