Emaciated Walrus Nearly Collapses During Marine Park Show
"I've seen him collapse many times."
UPDATE: Marineland has responded to criticism of Zeus' health by posting its own video of the walrus. You can watch the video here. Former senior trainer Philip Demers, however, tells The Dodo the new video was crafted to "strategically hide his body underwater, having him swim to create ripples."
One of Marineland's least seen residents - a walrus named Zeus - finally made an appearance at the Niagara Falls, Canada, water park this week.
And for those who have been following the 13-year-old animal's condition, it wasn't a very comforting sight.
In a video posted on YouTube on Monday, the walrus is seen shuffling slowly onto a stage, amid deafening cries from the audience.
Zeus takes several sluggish steps before bowing his head low to the ground and, finally, flopping to the floor. While Zeus may act like a senior citizen in the video, he's actually quite young by walrus standards - they can live up to 40 years in the wild.
"He's grossly emaciated," Philip Demers, a former senior marine mammal trainer at the park, tells The Dodo. "You can see his hip bones, his spine. His skin is falling off his bones. His air sack is protruding. There's virtually no belly."
Marineland, however, offers a different take.
"As you have probably seen from many of the tabloid magazines, you see in grocery store lineups, anyone can take an unflattering photo of someone to make them look unwell or unhappy," the park noted in a statement to The Dodo.
Marineland also said Zeus gets regular checkups from an on-site medical team as well as independent veterinarians.
"Activists will continue to post misleading information and photos of all of our animals," Marineland adds. "We will continue to provide accurate information and care for all of our animals."
But few at the park have known Zeus as long, or as intimately, as Demers. He worked with the park's walruses for 12 years before quitting in 2012. Zeus' condition, he says, led to a "heated argument" with his employer and, ultimately, his resignation.
"I've seen him collapse many times," he recalls. "He would delay shows. He has a chronic regurgitation issue."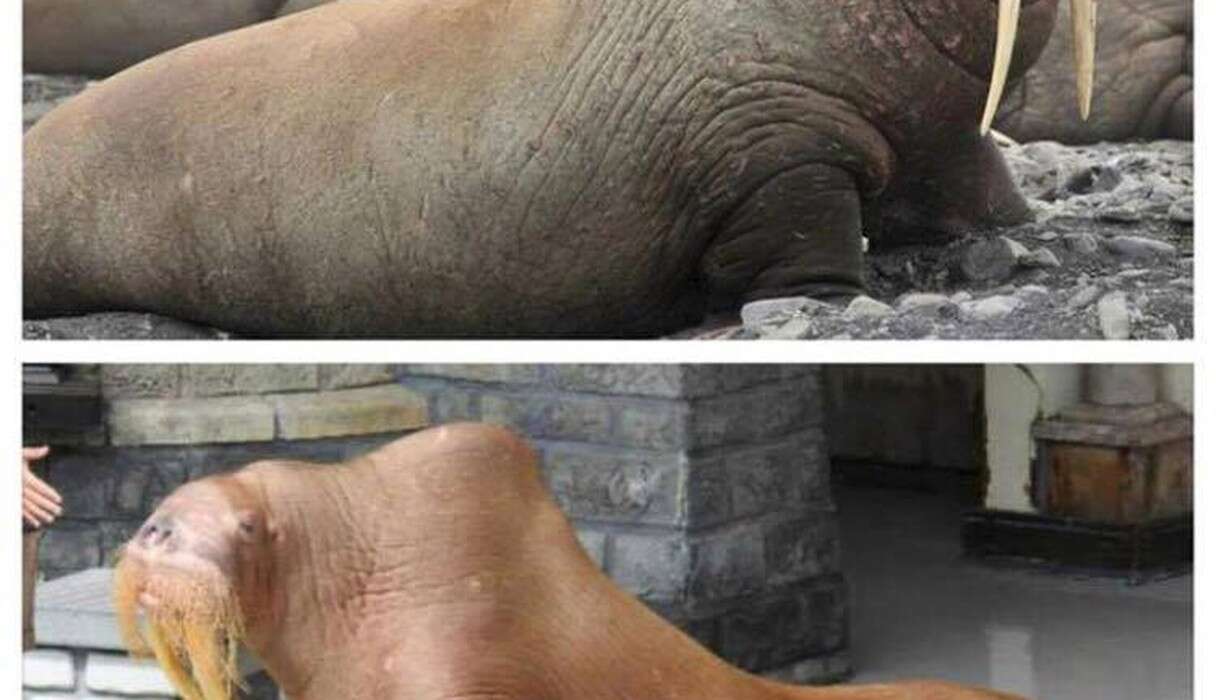 Since leaving Marineland, Demers had led a vocal campaign demanding animal protection laws in Ontario that would effectively shut down the 1,000-acre park's marine exhibits. A petition he started asking Ontario's premier to pass tougher laws governing the care of animals in exhibits has garnered more than 130,000 signatures.
But Marineland hit back, suing Demers in 2012. Its claim? Demers was trying to steal a walrus he had bonded with named Smooshi.
"They're really punishing me good for speaking out," he says.
For his part, Demers doesn't deny wanting Smooshi, who was an 18-month-old orphan when she arrived at the park, to have a better life.
"Her health concerns me and the quality of her life is greatly negotiated in my absence," he wrote in a blog that year. "She needs me as much as I need her. Her vulnerability humbles me, and she makes me a better human being. She has offered me so many amazing experiences and opportunities, and I value her life as I do the lives of my very own family."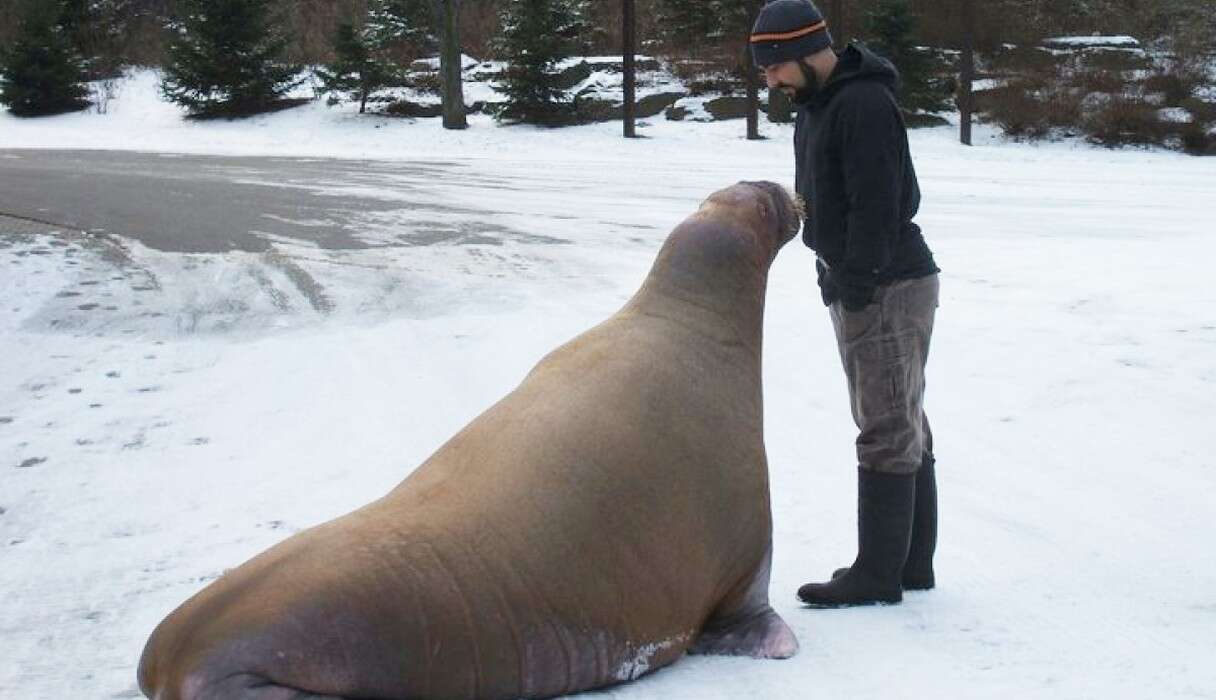 The lawsuit, however, hasn't stopped Demers from challenging Marineland at every turn, especially on social media. Recently, Marineland even responded to him on Facebook with a simple message:
The statement appears to fly in the face of Zeus' most recent appearance.
Demers says at his age, the walrus should weigh a healthy 3,000 pounds.
"I'd be shocked if he weighed 1,000," he says.
There is one touching aspect of the video that few besides Demers would be able to recognize. There's another walrus behind Zeus, who seems to be checking up on him, protectively, as he shambles listlessly across the stage.
At one point, the other walrus even touches her nose to Zeus.
That's Sonja.
"They were both wild caught as pups together in Russia," Demers explains.
And as Zeus falters on stage, she appears to feel his pain.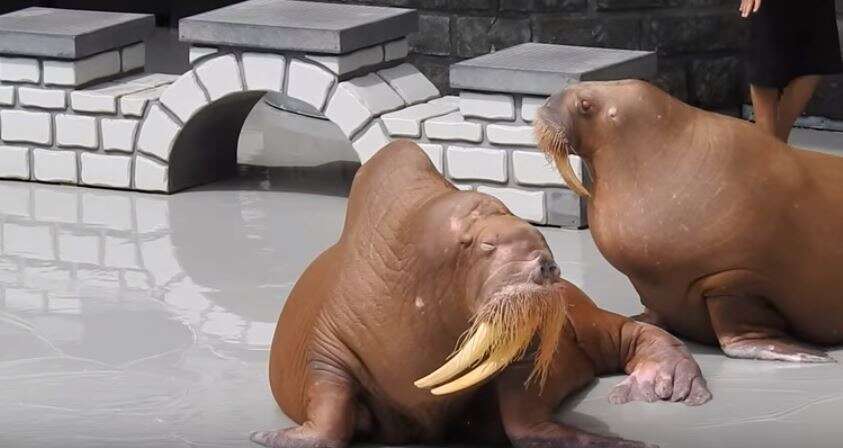 The ailing walrus, at least, has a friend on the inside. Now, he's going to need a lot more friends on the outside to give him the peace he so desperately needs.
Consider signing the petition to enact tougher laws that would protect animals like Zeus, Sonja and Smooshi.
You can also help Demers in his ongoing courtroom battle with Marineland - a legal odyssey that has taken four years and more than $100,000 in legal fees - by making a donation here.