New Details Emerge About Cruelty At Popular Marine Park
It's Canada's SeaWorld.
Newly released footage taken during an investigation of Marineland shows animals with untreated severe eye infections and a freezer full of dead deer, birds and bison piled on top of each other, among other disturbing visuals.
The Niagara Falls, Ontario, marine park was charged with five counts of animal cruelty by the Ontario SPCA (OSPCA) last week, after undercover video from the animal activist group Last Chance for Animals (LCA) revealed mistreatment of some of the land animals.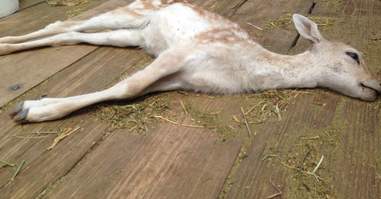 LCA
Charges include allowing a peacock to be in distress, failure to comply with standards of care for Guinea hens and failure to supply adequate food and water for the park's captive black bears (there are at least 35). The Ontario SPCA said that further charges are still pending.
Former employees of Marineland have been working with LCA to shed light on the park's practices.
"Over the course of a number of weeks this summer LCA gathered evidence that prompted the Ontario SPCA to charge the park with five counts of animal cruelty," Adam Wilson, director of investigations at LCA, told The Dodo.
Ontario Captive Animal Watch
But Marineland directed The Dodo to a blog post that, it said, answers some of the concerns raised by LCA. Despite its recent animal welfare charges, Marineland also claims LCA is not a reliable source of facts. The video "depicts the inside of Marineland's morgue, a walk-in freezer where animal carcasses are stored until they are buried," the blog post said. "This is a best practice that every veterinarian employs when dealing with the remains of household pets as well. The video also shows dog food that is being stored in the same facility for disposal."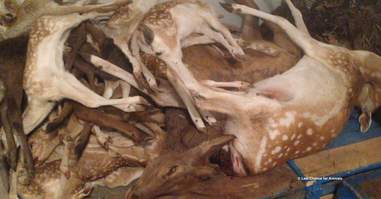 LCA
In response to the latest concerns about Marineland's animals, Wilson sees the OSPCA's animal welfare charges against the park as a big win. "The charges themselves can be seen as a change in response from the OSPCA who for years has avoided any real engagement with the park," Wilson said.
Wilson added that the best outcome for Marineland's animals would be for the park's owners to be convicted of the charges and to receive the maximum penalty: a lifetime ban on owning animals, so their animals could be rehomed in a sanctuary.
"As former employees of Marineland, these charges are music to our ears," Phil Demers, a former senior marine mammal trainer at Marineland who became a whistleblower, recently said. "Despite their efforts to do harm to those of us who speak out against their cruel practices, those of us who haven't given up feel vindicated. Facts are facts, and the truth will prevail."
Watch the footage below: