Popular Marine Park In Trouble For Its Treatment Of Animals
"We complained that bears were eating cubs over the winter."
Marineland is in hot water again - this time for the mistreatment of its land animals, specifically birds and bears.
The Ontario, Canada, marine park is home to 50 beluga whales and a lone orca, as well as dolphins, walruses, sea lions and seals, according to Phil Demers, a former senior marine mammal trainer at Marineland. Like Seaworld, Marineland keeps its marine animals in tiny tanks and forces them to perform four to five shows each day.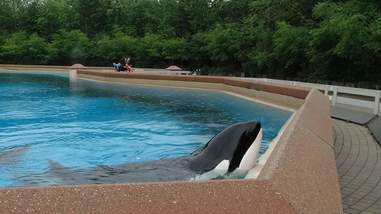 Ontario Captive Animal Watch
The park also keeps several land animals, including bears, bison and deer, and planned to unveil a new bird exhibit this year. "It's a yet-to-be announced 'attraction,'" Demers explained . "Marineland is hoarding them offsite until they build the exhibit. They've had the birds for a while."
This planned bird exhibit is what got Marineland in trouble.
On Friday, November 25, the Ontario SPCA (OSPCA) charged Marineland with five counts of animal cruelty under the Ontario SPCA Act for the mistreatment of some of its land animals, following a recent investigation into the facility.
One count is for leaving a peacock "in distress," while another is for not giving that same peacock adequate care. Two counts are for failing to comply with standards of care for the resident guinea fowls. Since the investigation is ongoing, the OSPCA told The Dodo it can't provide more details about the charges, but Demers believes that keeping the birds offsite may have a lot to do with the charges.
"I can only imagine what conditions they're subjected to," he said.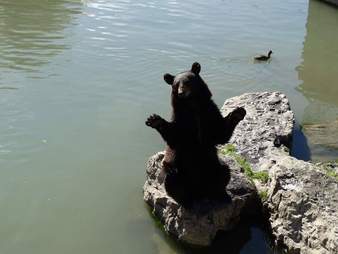 Ontario Captive Animal Watch
The park was also charged for not providing appropriate food and water for the American black bears. The black bear exhibit has been open to the public for years already. "I know that it's revolting," Demers said of the exhibit. "In 2012 we complained that bears were eating cubs over the winter. Marineland was ordered to fix the enclosure and put the bears on birth control. They now have 35. Something's amiss."
Ontario Captive Animal Watch
And these charges could just be the beginning. In a press release, the OSPCA stated that further charges were pending.
While the OSPCA does not currently have the authority to remove the animals from the marine park, the organization said that it wants "to reassure the public that the Society will be continuing to make sure that the animals are getting the care they require while this investigation is ongoing."
"Reports of animal cruelty are taken very seriously," Steve Toy, a senior inspector with the OSPCA, said in a statement. "When we receive reports of cruelty that involve wildlife or exotic animals, we will utilize our experts as well as industry experts to assist us with our investigation."
Ontario Captive Animal Watch
Marineland was quick to tell their side of the story. In a statement provided to The Dodo, the park said that the OSPCA's visit was in response to a complaint made by a former employee who was fired for "poor performance and inappropriate behaviour."
While Marineland acknowledges that the peacock has an issue with one eye, it claims the bird is "otherwise healthy," and will make a full recovery with medical treatment. The park also said that this peacock was the only sick bird out of "thousands" it had on site.
Demers, however, finds it hard to believe that the park has "thousands" of birds.
"Marineland always suggests they have the 'world's largest, tallest and most of' everything," Demers said. "The fact is, they like to feed the public these tales to get their money at the door."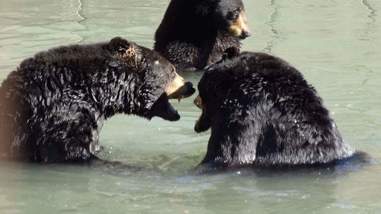 Ontario Captive Animal Watch
Marineland also denies that the guinea hens are unhealthy, and asserts that the birds have adequate enclosures.
As for the black bears, Marineland says the issue in question is that "one or two small labels" were accidentally attached to the fruit and vegetables the bears were being fed. "That is regrettable but it does not pose any risk to the bears," Marineland said.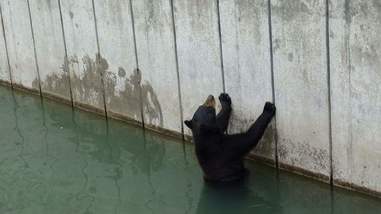 Ontario Captive Animal Watch
But these charges are just the latest in a long string of welfare accusations against Marineland. Earlier this year, a shocking video showed a 13-year-old walrus named Zeus dragging his emaciated body across the stage for a show, as music blared and the crowd roared in the background.
Phil Demers
Many viewers thought Zeus was in terrible shape - his hip bones and spine were visible through his saggy skin. Demer told The Dodo at the time that Zeus often collapsed before shows, and has a chronic regurgitation issue - a possible sign of stereotypic behavior that's been seen in SeaWorld walruses before.
Now, Demers - who's been speaking out against Marineland since he left the park in 2012 - hopes the facility will finally be held responsible for its animals' welfare.
"As former employees of Marineland, these charges are music to our ears," Demers said. "Despite their efforts to do harm to those of us who speak out against their cruel practices, those of us who haven't given up feel vindicated. Facts are facts, and the truth will prevail."
To help bears, birds, walruses, belugas and other animals living at Marineland, you can sign this petition.