After several tours in Afghanistan, Marine veteran Chris Galliher transitioned back to civilian life all thanks to his dog, Raider.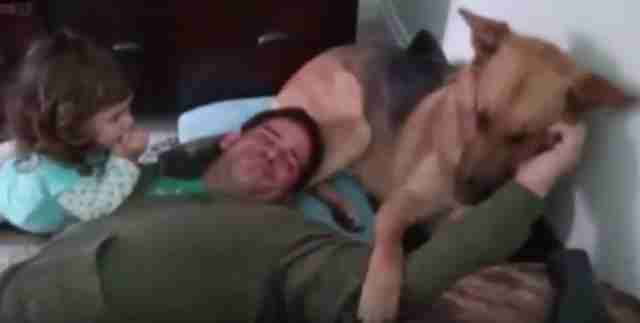 Raider is Galliher's best friend - and so, naturally, Galliher panicked when the dog disappeared one night.
Galliher and Raider had stopped at a motel in Utah for the night, according to KTLA 5. They were on their way home to Washington state after attending promotion and retirement ceremonies at Marine Corps Base Camp Pendleton in California.
While playing with Raider in the room, Galliher opened the front door for a moment.
That's when the dog bolted.
Galliher suspects it was a squirrel that caused Raider to suddenly race across the parking lot before disappearing into the night.
And so began one of the longest nights of Galliher's life. He spent much of it walking and driving and searching for his beloved companion - a dog he credits with bringing him back from the brink of a very dark place in his life.
After his several tours of duty in Afghanistan, Galliher had a difficult transition back to civilian life. Until he met Raider.
"I got Raider when I felt like I felt like I was in a dark cave and there was no chance of seeing the light again and getting him was like having a little glint of hope," he told Fox 13 News.
But while Galliher spent the night circling and re-circling the area, desperate for a trace of his best friend, he didn't think to stop in at the veterinary clinic next to the motel.
It wasn't until the next morning that Galliher learned his dog was there.
And then this happened.
Raider emerged frantic from behind a door at the clinic, trying to squeeze as much of his body as possible into Galliher's arms.
"Where have you been?" Galliher says in a video of the reunion posted to YouTube. "Where did you go? You scared me."
And in an instant, the bond between Marine and his dog was restored in a flourish of tears and tail-wagging. Let no squirrel come between them.
Watch the full video of their emotional reunion below: