Dog Flies Across The World To Reunite With Marine Who Saved His Life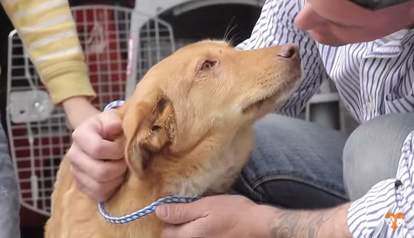 <p> <a href="https://www.youtube.com/watch?v=AkDEpDX1sa8">YouTube/PAWsitive</a><span></span> </p>
Sgt. Jacob Fisher returned from his tour of duty as a U.S. Marine back in April, but he left someone behind.
However, a few weeks ago, Fisher and his four-legged best friend were finally brought together for an emotional reunion on American soil, and the whole homecoming was caught on tape in a touching video.
Fisher was serving in Afghanistan as a mechanic when a fellow Marine called him one night to check on an animal who was caught in a trap on the base. When Fisher got there, he found "a small, little itty-bitty baby puppy" staring up at him.
It was love at first sight - Fisher decided to name the puppy Jax.
"He looked kind of miserable, shaking a lot," Fisher said in the video, describing the night he found Jax. "He was definitely cold since it was snowing."
Within the first week of caring for Jax, Fisher knew he wanted to bring the puppy home to the U.S. with him. "Going to Afghanistan I didn't realize I would even see a dog on the base, let alone fall in love with a dog and want to bring him home," Fisher said.
Taking care of Jax helped keep Fisher's spirits up even as he desperately missed his young son - the little puppy gave him the affection and love he needed to keep going, even though he was halfway around the world from the people he loved most.
On April 24, with the help of SPCA International's Operation Baghdad Pups, Jax arrived in America - and Fisher showed up at the airport to take his buddy home.
After waiting anxiously for Jax's crate to get there, the moment finally arrived. Fisher was back together with the one friend who had made him feel at home when he was miles away from his family.
Fisher and his family joyfully gathered around the dog whose life he'd saved - although, in a way, Jax saved Fisher's life, too.
"Look at you, you've gotten so big," Fisher said, laughing, "I've got my buddy back."
After an emotional reunion, Fisher loaded up the car and the family headed home - with their newest member happily riding in the backseat.
Welcome home, Jax. Here's to a long, happy life with your new family.
Watch the whole reunion here: