Even In Death, Rare Marine Life Aids Mankind
<p>Carine Zimmermann / <a href="http://commons.wikimedia.org/wiki/File:CZ_Rorcual_FinWhale_Estrecho_Strait_Gibraltar.jpg" target="_blank">Wikimedia Commons</a> (Public domain)</p>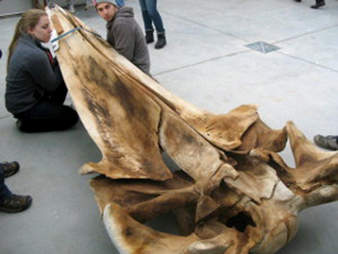 Two student volunteers, look at the inverted top half of a fin whale skull. Photo © SUNY ESF
We don't often get a chance to talk about what happens after the necropsy; however, it is a hugely important part of what our team does and can have long lasting impacts.
While many of the samples that are collected from a necropsy are sent to various labs to try to help determine the cause of death some will be retained for educational purposes. These educational specimens include the animal's skeleton and teeth, or baleen from large whales.
In most cases, the animal's entire skeleton is kept and given to various schools, universities, and museums, including the Smithsonian Institution, where dozens of IFAW skeletons are already part of the national collection.
This winter IFAW donated a large collection of seal and dolphin skeletons to the State University of New York's College of Environmental Science and Forestry (SUNY ESF).
A few larger specimens were donated as well, including a 40 foot long fin whale that stranded in Provincetown, MA on Cape Cod on Memorial Day weekend in 2009.
This skeleton was collected during a necropsy conducted by IFAW with assistance from Tom French, of the Massachusetts Division of Marine Fisheries, who then took the skeleton to clean and prep for display.
IFAW works closely with Tom to collect and find permanent homes for these amazing specimens. We are fortunate to have this new relationship with SUNY ESF and hope to continue to provide them with specimens for years to come.
Necropsies on marine mammals, especially large whales, are a huge amount of work.
This work is done by many people and several organizations. Collecting the skeletons, as well as transporting, storing and cleaning the specimens, is in itself quite a process, however, it is definitely worth the effort.
Collecting these skeletons means that many people, including students, get to view these amazing animals that very few people are privileged to see and study.
These specimens go into collections and will be studied for years to come.
There is still relatively little known about many marine mammal species, due to the difficulty in studying them in their natural habitat.
These specimens will increase what we know about these animals and help extend that knowledge so that we can better protect and conserve these animals into the future.
- MN