Massive Manta Ray Bust Captures Industry Kingpin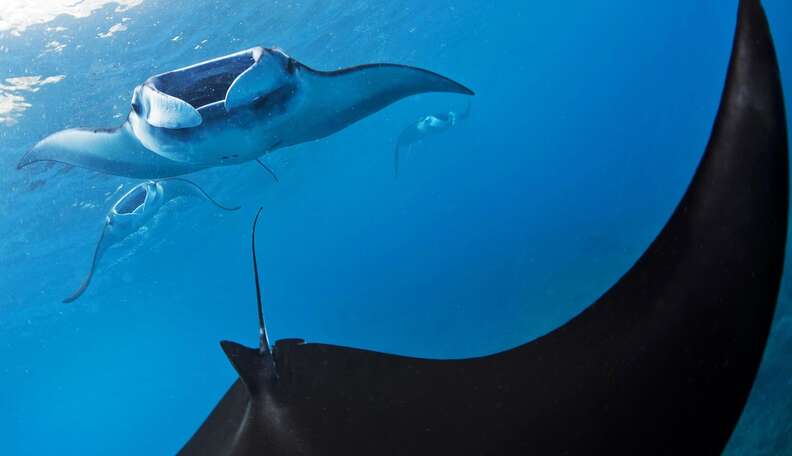 <p><a class="checked-link" href="http://www.paulhiltonphotography.com/">Paul Hilton</a></p>
An investigation has uncovered a thriving trade in manta ray parts in Indonesia, the country with the world's largest manta ray sanctuary. A shark fin trader was arrested with over 220 pounds of large manta gill plates (cartilage appendages that rays use to filter plankton out of the water column) and over 50 pounds of manta cartilage. The incident marks the largest bust of manta gill plates to date in Indonesia.
The trader, whose name is Suhairi, told authorities that he collected the gills over the past few months.
"The high seasons for catching the manta rays is from July to October each year. I couldn't resist buying the manta gills after I was offered a rate of US$ 65.00 per kilo for a product that normally sells for twice that."
Suhairi, the largest manta dealer apprehended since the sanctuary was created in February, now faces a maximum prison sentence of 6 years and a fine of $125,000.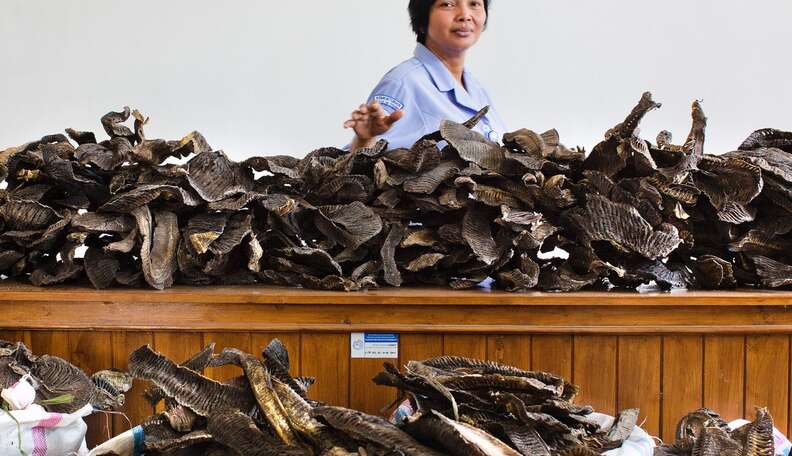 The investigation was conducted by the Wildlife Conservation Society (WCS) and Indonesia's Ministry of Marine Affairs and Fisheries.
"As real action to protect marine and fisheries resources, we managed to thwart an illegal trading of protected species which is part of world's charismatic species diversity and nature's heritage" said Susu Pudjiastuti, Minister of Marine Affairs and Fisheries.
What's more, this week, customs officials intercepted yet another 485 pounds of manta gills on an AirAsia flight bound for Hong Kong. According to Indonesian Quarantine officials at Juanda Airport in Surabaya, the haul was the largest shipment confiscated to date.
Yet still another bust in Indonesia apprehended a shop owner illegally displaying dried whale shark fins, critically endangered sawfish and over 30 pounds of turtle meat. Gill plates and manta cartilage are popular ingredients in Chinese health tonics used to treat a range of illnesses, though there is no scientific evidence to support the medical properties of either.
The busts are part of an ongoing crackdown on manta ray trade in Indonesia - from late August to early September, four major arrests were made on wildlife traffickers in the country, blowing the lid off a massive illegal trade.
Working alongside WCS, Conservation International and local authorities, Hong Kong-based photographer Paul Hilton has been documenting the busts as they happen. Read more about Hilton's experience with the investigation here.
While conservationists have applauded the busts, they point out that airlines shouldn't be supporting the industry by shipping the products.
"We commend the Indonesian Government for stepping up their enforcement actions by clamping down on illicit manta ray poaching," said Alex Hofford, a wildlife campaigner for WildAid who has worked to pressure airlines to stop shipping shark fins.
"We also commend AirAsia for banning shark fin from their flights earlier this year, but think it's a shame the airline's shark fin ban does not currently also extend to manta rays," he said. "However, we would like to think that in light of today's bust by the Indonesian government, that the 26 shark-free airlines around the world will be looking to tighten their cargo policies – if only to avoid embarrassment – by also banning manta rays for their cargo holds."
The airlines Hofford is targeting are Air Asia, Garuda Indonesia and Lion Air, all of which operate in Indonesia.