Manchester and Salford Community Cat Project
<p>Matthew Payne, Jan 2016, Langworthy Estate, Salford</p>
On the 1st of February 2016, Cats Protection launched its Manchester and Salford £5 Neutering Campaign, aimed at promoting the importance of timely cat neutering and supporting local residents on low-incomes, benefits, students and pensioners with the cost of getting their beloved cats snipped or spayed.
The campaign is part of a Community Project to make timely neutering of cats the social norm throughout both Manchester and Salford; to dispel myths about early neutering through targeted education and community outreach work; and to raise awareness of Cats Protection in order to make us a trusted community presence.
One of three cats in the backyard of their deceased owner's house in Longsight, ManchesterMatthew Payne, Nov 2015
One of three cats in the backyard of their deceased owner's house in Longsight, Manchester

| Matthew Payne, Nov 2015
Getting your cat snipped or spayed benefits both males and females. Until you have your female cat 'spayed,' she will want to go outside and mate. But it isn't because she wants to have babies. It is just her hormones, making her feel that way and she does not know that it will lead to her becoming a mum. If she has kittens, her owner will have to buy more cat food, pay their vet bills and find them new homes. While the female cat is looking after her kittens, she will not be able to do all the things she loves - going outside, climbing trees and jumping up high!
A male cat that hasn't been 'snipped' can be difficult to live with - he'll make a mess of your house by spraying all over his owner's home to leave his scent - which will smell! He may come home with nasty wounds from fighting with other tom cats which could lead to him needing an expensive trip to the vet. He's also likely to wander long distances to find a female to mate with, putting himself in danger of getting run over and killed on the road. Male cats that haven't been snipped can also get diseases like FIV (Feline Immunodeficiency Virus) which can be spread through bites from fighting. Getting him snipped will mean he is much less likely to fight and catch this disease.
Three male cats and a female cat (see top of the dustbin) in a communal alley on the Langworthy Estate, Salford.Matthew Payne, Jan 2016
Three male cats and a female cat (see top of the dustbin) in a communal alley on the Langworthy Estate, Salford.

| Matthew Payne, Jan 2016
From the outset of the Manchester and Salford Community Cat Project, it has been absolutely key to form effective working partnerships with other local agencies and community groups in order to have the maximum outreach possible. So far, we have formed partnerships with several of these agencies and groups based throughout Manchester and Salford - such as local Trussell Trust foodbanks, the Greater Manchester Poverty Action Group, Age UK Manchester, various Salford Council Neighborhood Teams, Mustard Tree, Inspiring Communities, several Housing Associations/ALMOs and many more.
One example of the partnerships we have formed is the first Manchester Animal Welfare Education and Community Working Group, which consists of Cats Protection, the Dogs Trust, PDSA, RSPCA Manchester and Salford Branch, RSPCA Greater Manchester Animal Hospital, Blue Cross and Manchester City Council. During its first meeting, the group pledged to meet regularly, share relevant animal welfare information and work collaboratively on future community events to improve welfare standards for all animals throughout the city of Manchester. One way of doing this, is through Community Pet Events, where owners can bring along their pet to be micro-chipped and health checked for free, as well as having the opportunity to seek advice on caring for their pet.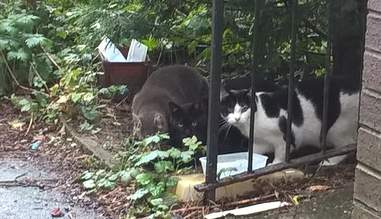 Three Community Cats feeding behind a derelict nursing home in Longsight, ManchesterMatthew Payne, September 2016
Over the next few months, this blog will keep you up to date with the Cats Protection Manchester and Salford Community Cat Project, and will show the impact the campaign is having on owners and their beloved cats. At the start of the project, our intensive community outreach will focus primarily in the areas of Ordsall, Salford and Harpurhey, North Manchester, where we are already hard at work developing projects which we hope will encourage as many owners as possible to neuter their cats. The blog will also feature profiles of local community workers or residents who are shining beacons for animal welfare within both Manchester and Salford; those un-named heroes who always go that one step further to care for local animals without receiving the recognition they deserve! Furthermore, you may wish to follow our Twitter page on @CP_MCR_Salf
If you live in the Manchester or Salford area, and would like to see if you are eligible to have our cat neutered for just £5, or would just like more information on the campaign, then please call our Neutering Support Team on 03000 12 12 12.