Man Forces Baboon To Ride Mini Horse, Hurls Obscene Insult At Him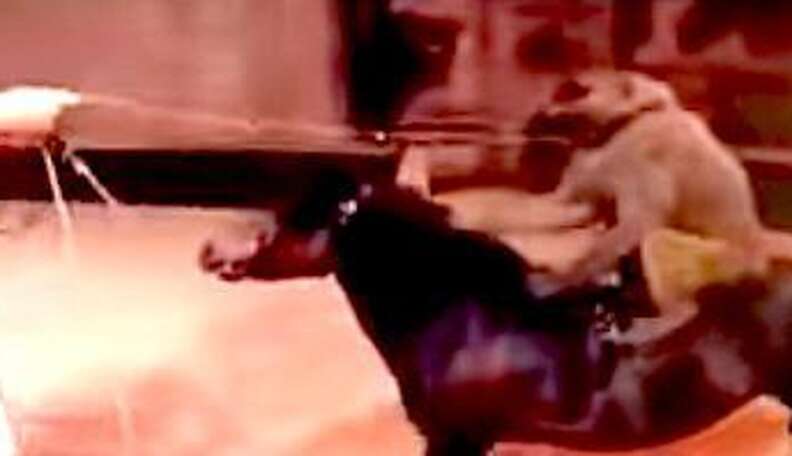 <p> <a href="https://www.youtube.com/watch?v=eJMTdlP82rs" target="_blank">YouTube/Shannon Goulter</a><a href="https://www.youtube.com/watch?v=eJMTdlP82rs"></a> </p>
<p> <a href="https://www.youtube.com/watch?v=eJMTdlP82rs" target="_blank">YouTube/Shannon Goulter</a><a href="https://www.youtube.com/watch?v=eJMTdlP82rs"></a> </p>
A man making a baboon ride a mini horse on live TV got annoyed. So he called the baboon a "cocksucker."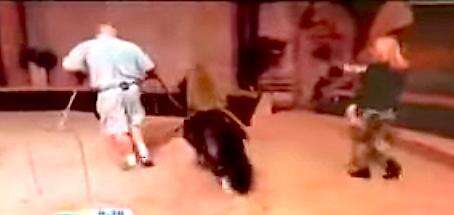 The baboon named Austin jumped off the mini horse momentarily during a promotional segment on Breakfast Television Toronto on Friday, and the guy said, "F**k you, you cocksucker, get up." He then makes the baboon jump over hurdles before giving him fruit.
The man, Michael Hackenberger, is the director of the Bowmanville Zoo in Ontario, Canada, and he says he loves his animals. In an attempt to clean up the mess he made, he wrote on the Bowmanville Zoo's Facebook page: "Today in a moment of exasperation I used foul language while working with a baboon on a Breakfast TV segment. This was an inappropriate response by any measure and for this I am sincerely sorry."
Hackenberger wrote that Austin came to Bowmanville Zoo after he was seized by the Ontario Society for the Prevention of Cruelty to Animals (OSPCA) "who found him living, constricted, in a tiny cage with no love or contact. He now lives in our baboon troop and has a life filled with love and contact."

Breakfast Television Toronto, though, no longer loves the Bowmanville Zoo. "What happened this morning on-air was unacceptable and does not reflect our views and values at Breakfast Television Toronto, and as a result we will no longer be visiting the Bowmanville Zoo," the show wrote on its Facebook page.
The internet is calling the man a whole lot of things, as more and more, people are voicing their disgust at forcing animals to perform. "A little bit of research into Bowmanville Zoo should have been done before they were allowed on the show," one commenter wrote. "Also a baboon riding a pony is ridiculous in itself! These beautiful wild animals are not here for our entertainment!"
People who live in glass houses, it's said, shouldn't throw stones. A man who makes a rescued animal do humiliating tricks to promote a business that profits from such practices really shouldn't start name-calling.
Sign a petition urging the transformation of the Bowmanville Zoo to a true wildlife rehab facility - not a place where "rescued" animals are forced to perform tricks.
The Bowmanville Zoo did not immediately reply to The Dodo's request for comment.