Man Spends $95,000 On Truck Because His Rescue Dog Likes It Best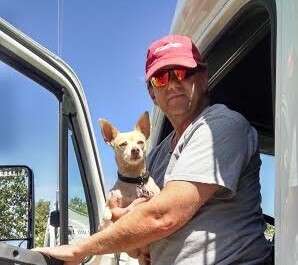 He waited patiently in a shelter for three years. While other dogs were being adopted, Diego was passed over. Every. Single. Day.
Found in 2011 wandering the streets of Phoenix, Arizona, Diego, a Chihuahua, was picked up by Maricopa County Animal Care & Control and then taken in by Lost Our Home Pet Rescue (LOH).
"No one seemed to notice him until Doggy Date Night," Jodi Polanski, LOH's founder and executive director, told The Dodo, referring to the event sponsored by LOH. It was held outside and featured a big-screen movie, vendors and "speed dating" so that people could briefly meet with adoptable dogs.
Date night for dogs
Luckily Ken Toth, a longtime long-haul truck driver who delivers trailers, attended the event that Saturday night in 2014. Toth had previously visited LOH's facility in Tempe, Arizona, with a friend who volunteered there, and had met Diego as well as other dogs.
But it wasn't love at first sight until the second time they met, at Doggy Date Night.
During "speed dating" Toth picked him up and was immediately interviewed by a local news station with the dog in his arms. "Look at that face," Toth said into the camera. "How can't you fall in love with that face?"
He adopted Diego the very next day.
"I kind of tear up when I think about it," Toth told The Dodo. "He was the oldest resident there. He had been there for three years, and I felt so bad that no one wanted him."
Diego becomes Diesel
After finishing the paperwork, Toth put on Diego's leash and walked him outside to his pickup truck. "I remember saying, 'Before I get him home, I have to give him a name,'" he said. "I tried a couple different names and thought, well he's going to be a trucker dog, so I came up with Diesel."
Although Toth previously had not had companions in his truck, he knew it was a great match because Diesel fell asleep on the passenger side of his pickup truck that day as if they had been together forever.
They headed directly to the pet store to buy a collar, bowl and new toys. "I felt kind of like a new dad," he said. "It sounds kind of silly, but I was really into it."
Third truck is the charm
Toth was in the midst of starting his own trucking company as he had once done in the past. Within a couple weeks he was in the market to buy a new semi. He was not sure if Diesel would take to life on the road due to the loud noises.
He brought the dog along for the entire process and soon found Diesel would be perfect for the road. "The first truck was nice but didn't work out," he said. "The second was too small. And the third truck I took for a drive, he hopped up into the bed and he fell asleep for the test drive. I told the dealer, 'This is the truck I want because it's the one Diesel is most comfortable in.'" The semi is complete with a microwave, refrigerator, freezer and TV.
"When I say we don't get separated, that's right to the core," he said. "It was a $95,000 purchase based on my dog."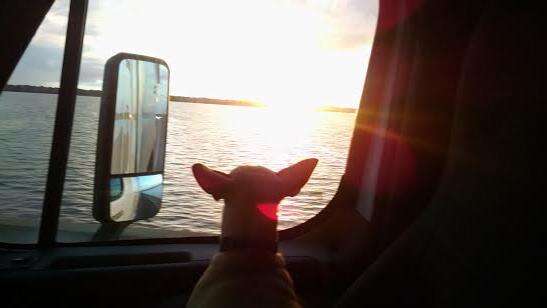 The former shelter dog quickly took to life on the open road as if he had been doing it his entire life. Now, Diesel is not afraid of the other semis at the truck stops, nor is he afraid of the loud noises. "He isn't afraid of the hustle and bustle of the traffic, and he is a fantastic traveler," Toth said. "I cannot have imagined a better traveling companion than Diesel."
According to Toth there are many other truckers who have dogs on the road, as well as cats. Diesel gets along well with other people and is good with other dogs after he gets to know them, and he loves playtime. "He loves to run after his ball," Toth said. "My arm will get tired before his legs get tired."
Diesel always gets into some kind of mischief, according to Toth. The dog got into the truck's open dashboard compartment and took out a jerky stick. "Not only did he get the jerky out of the compartment, he got the jerky out of the wrapper and left the wrapper," Toth said. When Toth got back into the truck and found the wrapper on the floor and Diesel licking his chops, Diesel looked up at Toth as if to ask, "What are you looking at?"
A match made for the road
Not long after Diesel's adoption, Toth and Diesel were in attendance for LOH's grand opening ceremony. The organization was celebrating due to its move into a larger facility. Polanski was looking for a dog for the ribbon cutting, and asked if Diesel could be part of the dedication. Since Diesel had been at LOH the longest, he was the perfect dog for the occasion.
"They are a perfect match, and we couldn't be more happy," Polanski said of Toth and Diesel. "We wish this kind of life for all our pets, to be matched with the perfect person. He has completely integrated Diesel into his life. It enhances both their lives immensely."
Toth and Diesel, now 6 years old, continue to travel around the country. "Every night when we turn in, I have some snuggle time with Diesel because I don't always get a chance to hold him during the day while I'm driving," Toth said.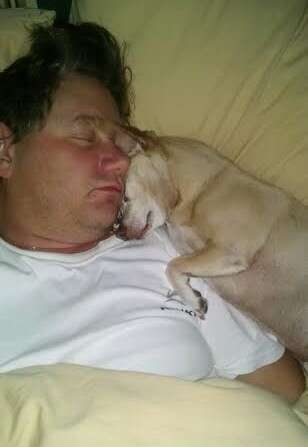 "He was the longest-standing resident at the rescue," Toth added. "For three years! This didn't break my heart. It melted it. He is truly my best friend."