Man Uses His Own Body Heat To Save A Freezing Bird's Life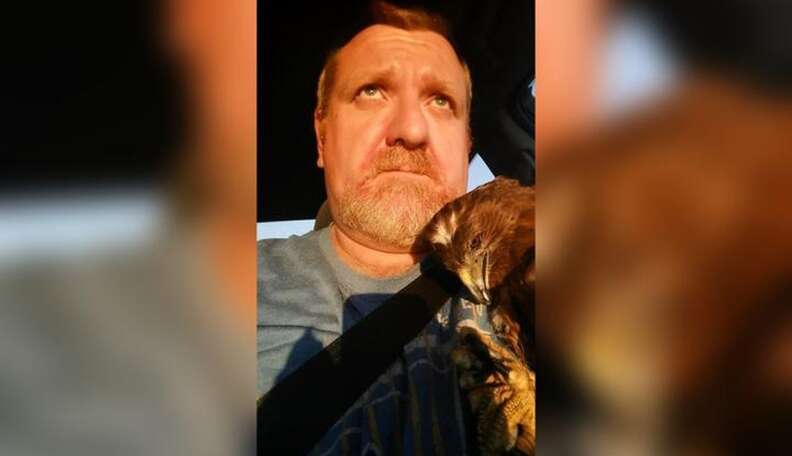 <p><a href="https://www.facebook.com/photo.php?fbid=10204416725137447&set=a.1014008209723.2176.1810613356&type=3&theater" target="_blank">Facebook/S Dale Bowman</a></p>
<p><a href="https://www.facebook.com/photo.php?fbid=10204416725137447&set=a.1014008209723.2176.1810613356&type=3&theater" target="_blank">Facebook/S Dale Bowman</a></p>
When a farmer mowing the grass ran into a suspiciously land-bound hawk, she knew something was wrong and immediately called for help.
That's when Scott Bowman and his wife, Tracy, of the Oxford Bird Rescue in New Zealand, arrived on the scene.
"By the time we had gotten there [the hawk] had fallen down a bank and was using its wings to stay afloat in a very cold, deep stream," Bowman wrote in a Facebook post detailing the rescue. "Just as I managed to navigate my way down the bank it looked like it was going to slip under the water."
Without hesitation, Bowman jumped into the stream to save the hawk from drowning. According to Bowman, the hawk was "cold, weak and terribly underweight."
On the drive to Canterbury Raptor Rescue, where he took the bird to assess the hawk's condition and determine the next steps needed to be taken, Bowman held the bird close to his chest, using his body heat to help keep the animal warm - and in that moment, the hawk showed just how much he trusted his rescuer.
"This raptor did something I have never experienced," Bowman wrote. "It totally relaxed and lay its head on my chest. I have handled numerous hawks over the years but I have never experienced anything like this. [It] was a very special moment for me."