The Dog He Loves Was Sentenced To 'Life In Prison'
<p><a href="https://www.facebook.com/Watch-Mickey-Beat-Cancer-627613240621251/" target="_blank">Facebook/Watch Mickey Beat Cancer</a></p>
In February 2014, Mickey, an American bulldog, was chained outside as he normally was, when two kids started playing nearby. One of the kids tried to take Mickey's bone away from him, and when Mickey tried to take it back, he bit the boy on the face, severely injuring him, as The Dodo previously reported.
Mickey was sentenced to life in prison.
Many people advocated for Mickey, which is how John Schill, a Phoenix attorney, found out about him. Ultimately, the judge ruled that he was vicious - meaning he could never be adopted.
Schill was able to get the death penalty off the table, and instead found a facility where Mickey could live out his days in peace. Schill visited Mickey frequently, never forgetting about his sweet friend who he believed was judged too harshly for something that people should never have allowed to happen.
Mickey has since been diagnosed with skin cancer, likely from being chained up outside his owner's home for all those years. He was moved to a veterinary hospital and boarding facility close to Schill's house. He still visits him at least once a week, Schill told The Dodo.
The dog's journey clearly affected Schill, and so when he heard about another dog in a similar position, he knew he wanted to try and help.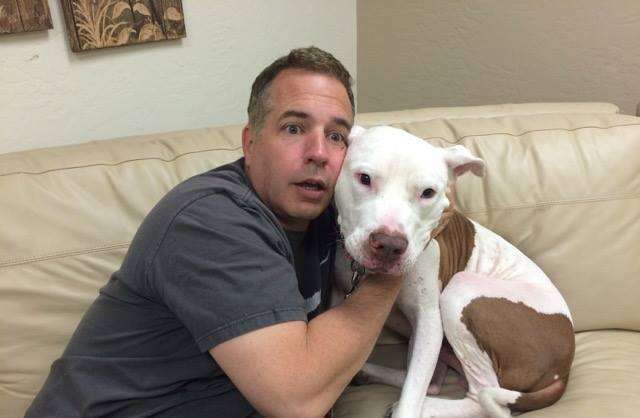 McLovin was taken in by the Norfolk Animal Care Center in Virginia after killing a cat while out on a walk with his new owner. Second Chance Rescue (SCR), which had rescued McLovin and gotten him adopted, contacted Schill to see if he might be able to help.
"I followed the McLovin story and I tried to help, but being an attorney in Arizona there was not much I could do," Schill said.
Unfortunately, McLovin ended up being put down, and the handling of his situation is still under investigation.
"Once I heard McLovin was killed, I was very upset and angry. I wanted to change this into a positive," Schill said.
Frustrated by the way so many dogs get judged too quickly, Schill decided he wanted to help another dog in honor of McLovin and Mickey. Schill learned of a dog named Rocket whom SCR wanted to rescue, but needed the funds to do it. That's where Schill knew he could help.
"I wrote to Second Chance and asked if they could save Rocket if I donated for it," Schill said. "They said they would look into it, and the next email I received was that he was safe and they had pulled him."
In some situations, there's not always much we can do. For McLovin and Mickey, the ones who love them did everything they could to help them, and will continue to do so for as long as they can.
Sometimes the best thing that can be done is to continue to help other dogs, and never give up trying to get them all the happy endings they deserve.
To help support Second Chance Rescue and other dogs like Rocket and McLovin you can make a donation here: