In his four trips to Asia, Marc Ching has almost died three times. He's been beaten, robbed, shot at and held at machete blade.
Basically, describing what he does for a living is no easy story.
A fourth-generation Japanese herbalist and holistic nutritionist — for pets — Ching's real passions lie in his organization, Animal Hope & Wellness Foundation, for which he travels to China and South Korea, saving dogs from the underground meat and fur trade.
And that's where things get kind of complicated.
"It's very dangerous. I don't recommend it," Ching told The Dodo. "My first trip was a scouting mission in Beijing, China, to find out if I could even do what I'm doing now. I tried to go to this slaughterhouse and I actually got held hostage. So, it didn't go well." Ching seemed modestly nonchalant about this last part, before saying, "I saved 57 dogs that trip."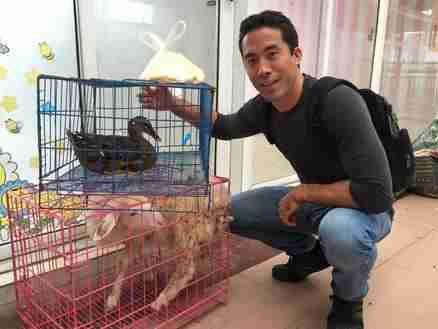 "I don't speak Chinese," he said. "I couldn't get a translator to come with me because it's dangerous, so I ended up going there myself." While investigating the slaughterhouse, a tip he'd received from a local source, Ching noticed a driver pull up to the facility and begin to unload dogs from his truck. So he quickly snapped some pictures. When he tried to talk to the men, however, that's when things went south.
"Before I knew it, they grabbed me and threw me to the ground. My arms were being held, so I couldn't escape," he said. "One of the guys kicked me so hard that I kind of went flying, which is actually how I got away."
Every year in China, as many as 10 million dogs are killed for their meat, according to Humane Society International (HSI), with as many as 10,000 killed for China's Yulin dog meat festival alone. Some dogs are even bred specifically to be slaughtered. Opposition to the festival, and Asia's dog meat trade in general, has grown lately thanks to campaigns by organizations like HSI and outspoken celebrities, such as Ricky Gervais and "Real Housewife" Lisa Vanderpump.
"There is a real divide here in Yulin between the older generation dog meat traders and the younger generation Chinese animal campaigners who want this horror to stop," Adam Parascandola, director of animal cruelty issues for the Humane Society of the United States (HSUS), said in a statement.
Ching's second trip overseas was where he really hit his stride. The next time around, he relied on a translator who helped him research where to find nearby slaughterhouses and the locations where dogs were being bred, beaten or tortured. Then he tried to get them out.
"What I'm doing is very different from what other people out there are doing," he said. "People push trucks carrying different dogs from farm to slaughterhouse off the road. That's the typical practice."
Ching operates using a more thoughtful strategy, targeting slaughterhouses and breeding operations directly. "Unfortunately, I can't take them all," he said. "Financially, it's exhausting, so I take the dogs who need me the most, dogs who've had their feet or their legs cut off."
And he's learned a lot since his first trip. "Now, I have a cover," he said. "I go in as a buyer for the dog industry in the United States. Then, all the dogs that I can take, who are abused or cut up, I take to the vet. I have a system now." These days, Ching brings a van with him and fills it up with as many dogs as he can. He has also formed relationships with a few vets in Beijing and surrounding provinces where he can safely bring the dogs he's rescued. Once they're healthy, some of the dogs can be rehomed locally.
"But the dogs who matter most to me," he said, "which I guess is a lot of them, the dogs I feel most connected to, I fly out. I want to give them a life."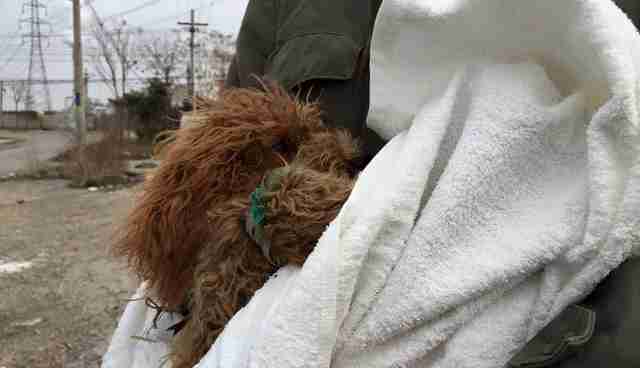 For some of those abused dogs, a new life means healing alongside people who have been through trauma themselves. In addition to saving animals from the international dog meat trade, Ching's Animal Hope & Wellness Foundation runs a victim adoption program in the U.S. "I try to adopt to people who have been through horrific crimes," he said. "Most of them are rape victims - their stories are so traumatic they have a hard time being normal again. So, I try to show them how a dog who has been through some type of abusive situation, when you're sad or having a hard time, they love you no matter what."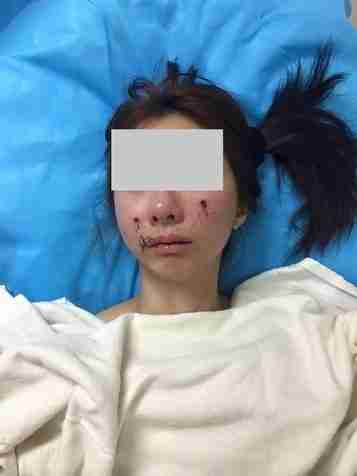 One woman (whose name has been kept anonymous to protect her privacy) was assaulted and robbed at gunpoint, Ching said. Then, one of the men circled back to the woman, aimed his gun at her face and pulled the trigger. Thankfully, the gun had only been loaded with BB pellets. But she was left with permanent scars, physically and emotionally, from the ordeal.
Eventually, with the help of the victim adoption program, she was placed with a small, terrified dog named Dot, who had lost her leg in the dog meat trade. Together, they're helping each other heal and learn not to be afraid of other people.
The introduction of dogs to victims of abuse or trauma can lead to decreased anxiety, lowered risk of post-traumatic stress disorder (PTSD) and an increase in trust over time, according to a 2011 study that observed a group of female assault survivors interacting with dogs during therapy sessions.
"So many of these China and Korea dogs are actually going to these victims," Ching said. "I kind of look at it like, even though we're saving animals, were using these animals to save people."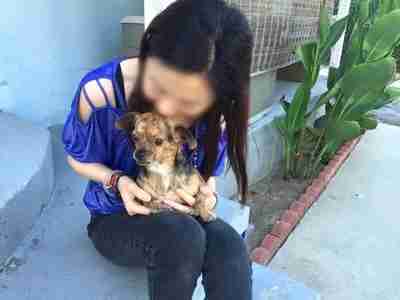 "I'm actually very successful with this program," he said. "When I adopt a dog to a victim of abuse, a survivor, it really changes their life. It's magic and it's miraculous."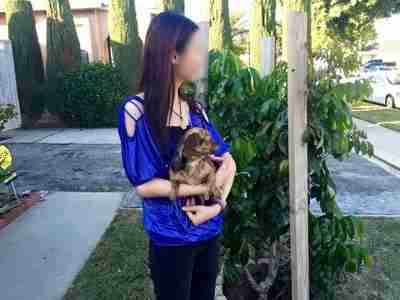 "When you meet them, when they hold the dog in their hand, they're crying," he said. "I hear their story and then I bring the dog out and tell them the history of the dog ... it's so powerful, it's amazing."
Ching also works tirelessly to rescue dogs in Los Angeles, where he currently lives. Toby is a small pup currently up for adoption, rescued by Ching and members of his foundation. He had been "smashed into the ground, kicked and stepped on repeatedly," according to The Animal Hope & Wellness Foundation Facebook page. Because of the abuse sustained, Toby's lungs contain fluid and he coughs frequently. Now he's ready for a new home.
Below are just some of the many dogs available for adoption through Animal Hope & Wellness Foundation.
These animals are available for adoption in Los Angeles.
And here are some photos from Ching's latest trip to South Korea this January.