A man taking a walk in Limerick, Ireland, had no idea he was about to encounter a wild local who needed a little help.
The man, Jack McGrath, was crossing a bridge when he saw a rather large white swan standing there, looking a little lost, as cars rushed by.
"I was walking over the bridge on my way home from work and met two American tourists who were watching the swan in distress but didn't know how they could help it," McGrath told The Dodo. "So I stayed with it till it got comfortable with me and then rang Limerick Animal Welfare (LAW) to ask for advice."
Unfortunately, LAW was 25 miles away - and the swan needed help fast. It was rush hour and he was already a bit stunned by the traffic.
"We took the call from Jack and after making sure the bird was not sick or injured, Jack kindly guided the swan back to the river," Marie Quirke, sanctuary manager at LAW, told The Dodo.
Experts at LAW talked with Jack over the phone about the possibility of either lifting or guiding the swan back to the safety of the water.
McGrath waited until the swan seemed a little calmer before he tried to walk with him. Finally, the swan seemed to trust McGrath to help him.
And so the man and swan set off for the river.
The swan was a little fickle, darting out in front of traffic.
Naturally, McGrath jumped out in front of oncoming cars, too, to keep the swan safe.
"I helped guide him across the bridge walking side by side with him to make sure he stayed safe," McGrath said. "Then walked him down he steps to the river and stayed until he jumped in to safety."
"I loved the experience as I've always had a soft spot for animals," McGrath said, "so there was no way I was leaving the poor fella there in distress."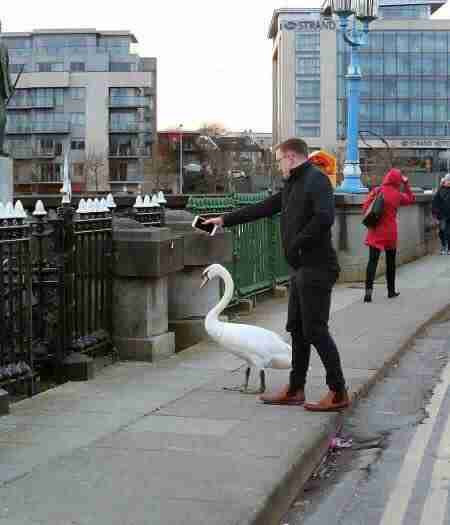 McGrath's good deed didn't go unnoticed.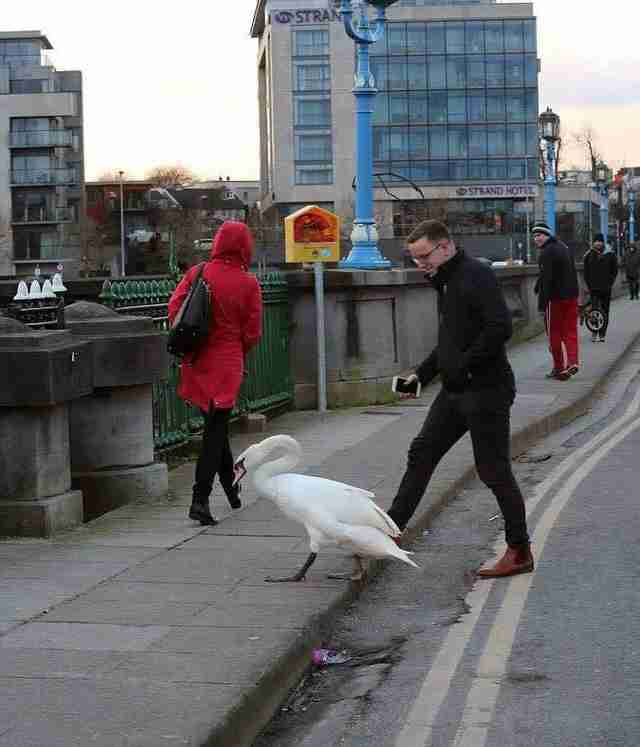 When asked how he celebrated a job well done, McGrath said he "celebrated like a normal young person on a Saturday night with a few drinks then woke up Sunday morning saw 35 notifications on my phone."
People from all over the world were asking McGrath about the rescue.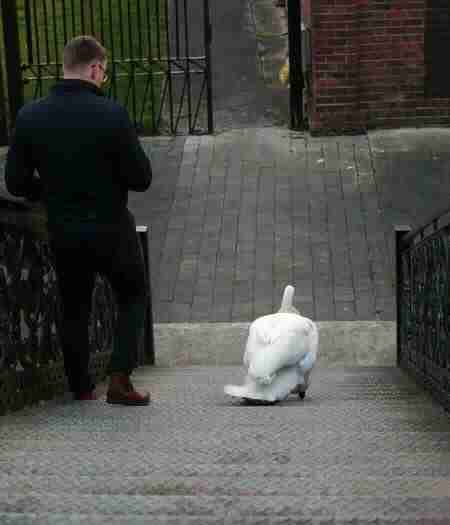 "I could not believe what I was seeing," McGrath said. "I'm so humbled by the reaction this is getting - to me it's such a modest task to help an animal in need."
"Now taking bookings for nightclub appearances," McGrath joked on Facebook. "PM for details."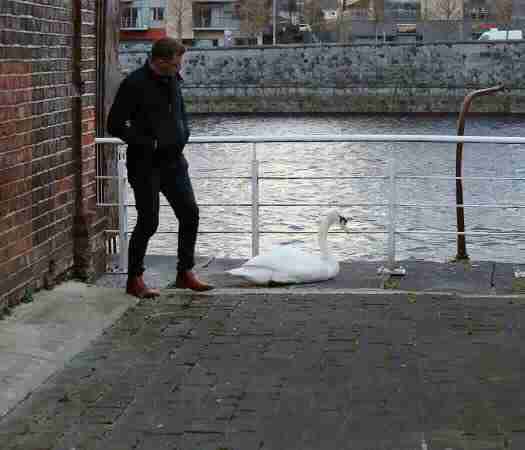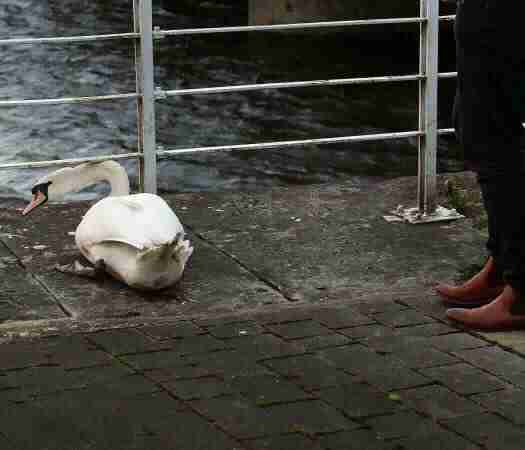 "Our sincere thanks to you, Jack," LAW wrote.
And ours, too.