How One Dude Ended Up With 6 Rescue Cats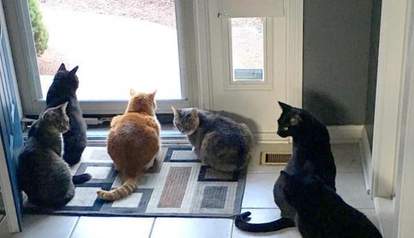 <p><em>Dave Kaminski</em><span></span></p>
We've all heard of the term "crazy cat lady" ... but have you ever heard of a crazy cat dude?
Dave Kaminski runs an Instagram account called Six Cats One Dude, and yes, he really does have six rescue cats.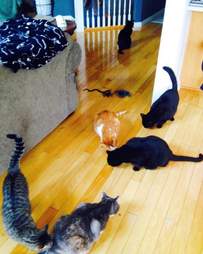 Dave Kaminski
Kaminski didn't always have this many cats, and it certainly wasn't the plan.
"My golden rule was to always have two cats, no more, no less. In my experience, things always worked best with two," Kaminski told The Dodo. "Having six cats was never a plan, a goal or something I remotely imagined. But then it happened, and almost instantly I learned my golden rule wasn't very golden."
Dave Kaminski
The way Kaminski eventually acquired his feline brood is pretty simple: marriage, and then divorce.
"I had two cats. She had three. We got married and added one more. Then we got divorced and I kept all six of the cats," Kaminski said. "I've had two of them for six years and the rest for a little over three."
Dave Kaminski
The squad consists of Boo, Samaire, Bug, Pappa, Vinnie and Lacy Jane, and they range in age from 6 to 12. (You can read about each cat's story - and distinct personality traits - here.)
With so many cats, you'd think there might be some conflict but, surprisingly, they're all pretty content with the arrangement.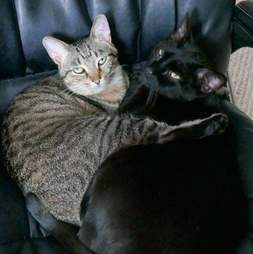 Dave Kaminski
"That's one of the things that always surprises people. My cats all happily get along," Kaminski said. "Are all of them best friends? No. But any drama between them is very rare."
Dave Kaminski
Both Kaminski and the cats seem pretty happy with their adorable family, and Kaminski is a very committed dad. While it's pretty rare to get all six of the cats in the same place at once ...
Dave Kaminski
... there never seems to be any escape from them, either.
Dave Kaminski
There are cats in every place in the Kaminski household ...
Dave Kaminski
... and this crazy cat dude wouldn't have it any other way.
Dave Kaminski