A man (identified by his Imgur handle as hiblue) was at his friend's granite shop one day when he encountered a beautiful stray cat whose different-colored eyes were so enchanting, he decided to take her home. The starving kitten, who he named Luna, was only about two months old and only "skin and bone," according to the man's account of her rescue. He bought Luna a bag of cat food and gained her trust, then brought her home for a flea bath and a permanent place to stay.
Luna's new owner was not prepared for the love he felt after spending just an hour petting his sweet new kitten. "It was a long day and she slept hard," he said in his account. "I've never rescued an animal before and all of this was new to me. I can't even begin to explain how rewarding and fulfilling it all was. It was a huge highlight of the year."
"Her dual colored eyes were really enchanting. Only with food in her belly did she perk up enough to show her face."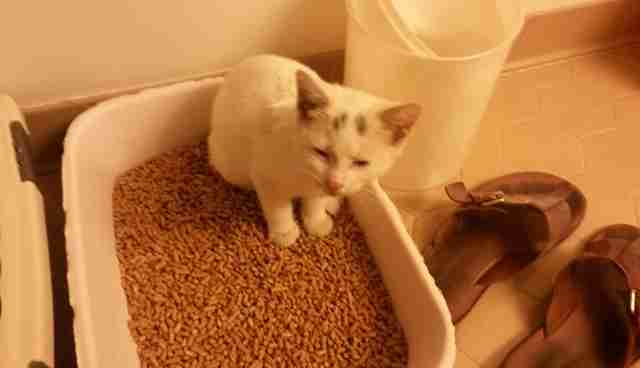 Luna mastered using her litter tray right off the bat.
Her owner says she was calm and relaxed while he gave her a much-needed flea bath.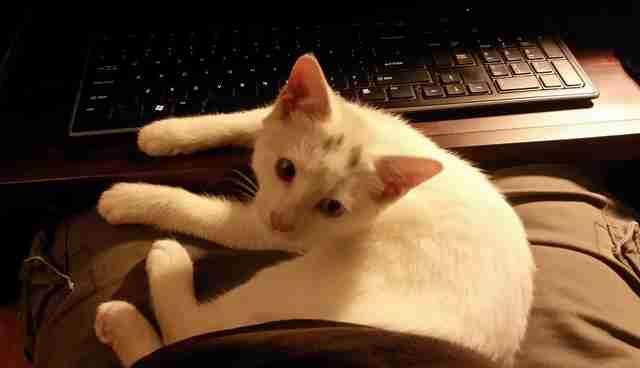 Luna "was a lap cat instantly" -- and she looks as if she's made herself right at home.
Images via hiblue.