Man Breaks Down After Being Reunited With His Stolen Dog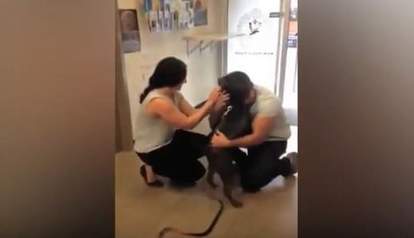 <p><a href="https://www.youtube.com/watch?v=xiiEwyBGDkE" target="_blank"> YouTube</a> </p>
It's every dog owner's worst nightmare to have their pet disappear without a trace - but fortunately for Joshua Green and his Shar Pei puppy, Henry, their harrowing story has a happy ending.
On Wednesday, Green was walking with Harry near their home in Newtown, Australia, when he decided to stop at a cafe for coffee. He had tied the pup to a post out front, but when he returned a few minutes later, Green was horrified to discover that someone had apparently kidnapped Henry.
Green rushed to inform local police who, to their great credit, launched an investigation into the alleged crime with the urgency it deserved. Incredibly, within less than 24 hours since Henry had disappeared, police tracked him down and arrested the person suspected of taking him.
Here's the tear-filled moment Green and Henry were reunited.