Mama Goose Defends Flock Against Animals They'd Never Encounter In The Wild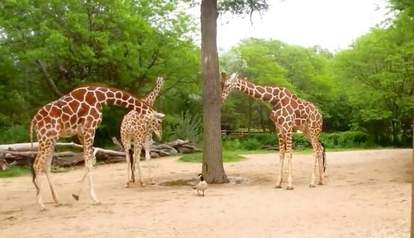 <p> <a href="https://www.youtube.com/watch?v=8OH7u_HzezI"><em>YouTube/limonada2010</em></a><span></span> </p>
Never mess with a mama goose protecting her babies. Three giraffes learned that the hard way when they got a little too close for comfort to a family of these beautiful birds.
It started out simply enough, with a lone giraffe stuck behind bars just wanting to pay a visit to some animals he had never seen before.
When the second giraffe moved in, things got a little heated and the mama goose was forced to give him a warning.
By the time the third giraffe strolled up, the mama goose had had enough and let the curious giraffes know it.
Have you ever seen a giraffe run that fast?
Apparently, these giraffes didn't learn their lesson the first time.
You can check out the full video below.