These pups give a whole new meaning to the phrase "dog pile."
From the streets to the sand pile ...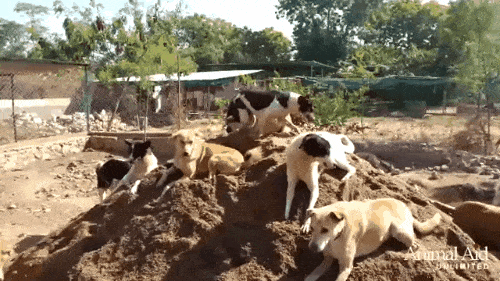 Animal Aid Unlimited India has been rescuing street animals with disabilities in the metropolitan area of Udaipur, India, since 2002. Animal Aid needed a new X-ray room, so they had a truckload of sand delivered. That's when these rescued dogs decided they couldn't resist having some fun before the construction got started.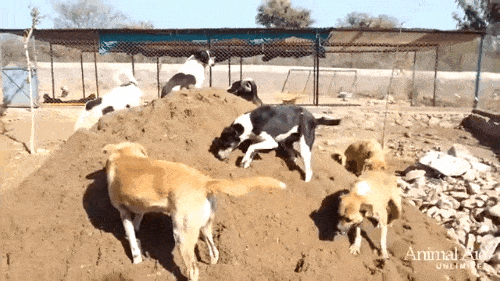 Sand is the greatest toy EVER!
There are so many possibilities for fun! And these dogs could use a little playtime, having been rescued from the streets as injured or ill pups with no humans or home to call their own. Animal Aid responds to between 15 and 25 calls daily on their emergency helpline to rescue street animals around Udaipur. The organization saves more than 3,500 animals per year through their street animal rescue program, hospital, and sanctuary.
You can dig in it ...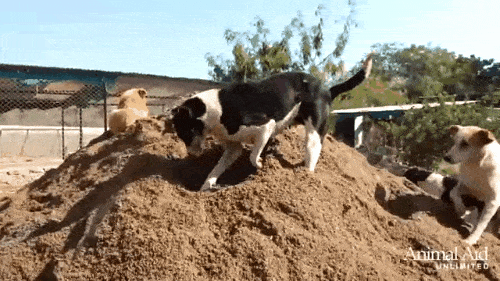 These dogs each put their own spin on the art of sand digging. This isn't a freedom that free-roaming dogs get every day: Animal Aid says that most Indian cities have no options for locals to report injured or ill street animals - let alone hospitals or sanctuaries for these needy critters.
Feel free to jump around and get really into it! There's nothing like the joy of a street animal who has found a safe haven. Animal Aid hopes that their work can help spread the word about street animals and encourage citizens to become involved in ending animal abuse. Their rescue program includes getting the word out around town (by posting flyers in public places) as well as giving presentations in schools and at local religious or community gatherings.
... or just sit with a friend on it.
There's just something about hanging out with a pal on a pile of sand when it's nice out, you know?
In the past twelve years, Animal Aid has been able to rescue more than 45,000 ill and injured street animals in Udaipur. The population of Udaipur now has the incredible distinction of being the city with the highest per-capita citizen involvement in the rescue of street animals.
You can get involved, too. If you're aware of street animals in your area who need help, search online for a local rescue organization that cares for stray animals. If you want to take a hands-on approach, inquire about fostering or adopting a local shelter animal, or simply ask to volunteer. You can support Animal Aid's work directly by donating funds or sponsoring one of Animal Aid's residents.