Starving Puppy Went Halfway Around The World To Finally Feel Safe
<p>Jessica Danner</p>
<p>Jessica Danner</p>
As a puppy, Lulu survived on her own, scavenging for scraps on an old army base near Chiang Mai, Thailand. But as the pack of stray dogs there grew, residents decided they were a nuisance.
They decided to poison them all.
Lulu in ThailandJessica Danner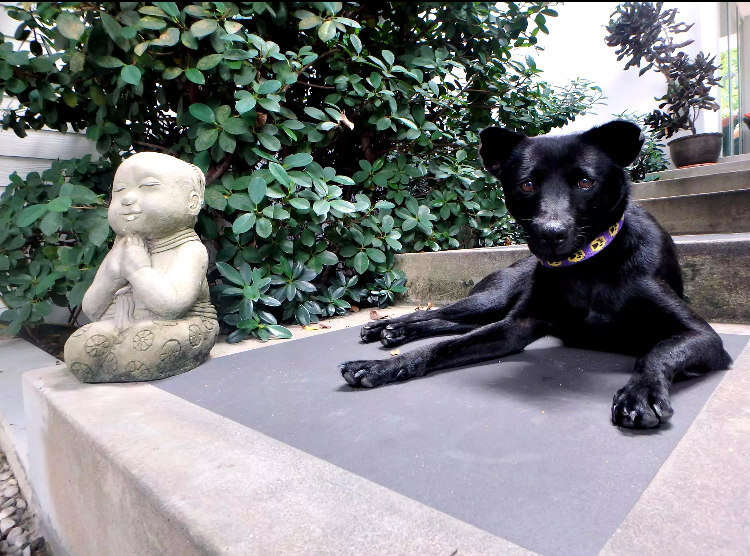 In Thailand, dog culture is vastly different than in the Western world. Even when a dog has an owner, she usually has to fend for herself on the streets, living on food scraps.
The dogs are malnourished and often diseased - and many of them don't avoid being poisoned to death or exported into the illegal dog meat industry in nearby Laos and Vietnam, where dog meat is a popular dish.
Those dogs caught by smugglers face a horrible fate, stuffed in wire cages and transported for days without nourishment. Once sold, these innocent animals are subjected to additional torture before being bludgeoned to death for food or skinned alive for leather to be used in drum skins and gloves.
Lulu with a volunteer in ThailandJessica Danner
When word spread about Lulu and the other dogs in danger, Elephant Nature Park (ENP) came to the rescue. You might be wondering what an elephant sanctuary is doing rescuing dogs, but its Dog Project has been aiding canines since the massive floods in 2011.
Rescues at the Dog ProjectJessica Danner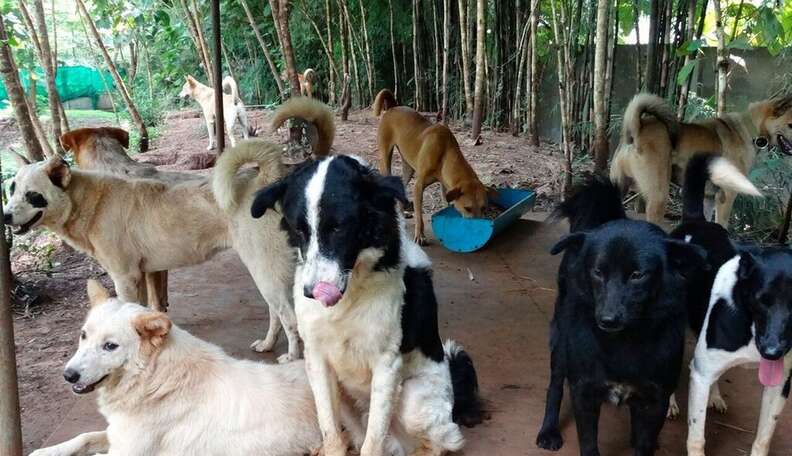 ENP, part of the Save Elephant Foundation, is home to 67 elephants and as many as 470 dogs. The dogs enjoy the safety of the sanctuary, playing in large pens where they can climb, swim and go on walks with volunteers.
Rescue dogs cool offJessica Danner
Eligible healthy dogs can be adopted locally, nationally and internationally. Lulu was one of the lucky ones. Rescued from certain death around 3 years old, she was given a complete health checkup, fixed, vaccinated at the onsite clinic and set up for adoption on the Dog Project's website.
Her fate changed when Jessica Danner from New York City expressed interest.
Lulu at the Dog Project in ThailandJessica Danner
Danner isn't new to ENP. Volunteering with the elephants during the summer of 2014, she fell in love with the onsite dogs, whom she walked and played with in her free time.
"Every single one of these dogs was sweet and social," Danner told The Dodo. "Many of them were abused and mistreated, and yet all they wanted was to be loved."
She decided she'd give one a loving home - in the United States.
Lulu at the vet before traveling to AmericaJessica Danner
The process of adopting an overseas dog isn't as daunting as you might think. The dedicated folks at ENP Dog Project do the hard work of finding a perfect match and ensure that all tests and paperwork are completed. A volunteer is sought to accompany the dog on the flight from Thailand.
The adopter is responsible for paying the adoption fee (approximately $590), which includes the excess baggage fee of $315 for the crated dog. Lulu was deemed a perfect match for Danner.
Lulu's passportJessica Danner
"She was picked on her whole life, but wasn't aggressive. She's super sweet," Danner told The Dodo. Getting Lulu to New York was seamless. Danner filled out a form in August 2014, paid the application fee, and wired money to the flight volunteer for the transport. Lulu arrived that November, just in time for the holidays.
Lulu at JFKJessica Danner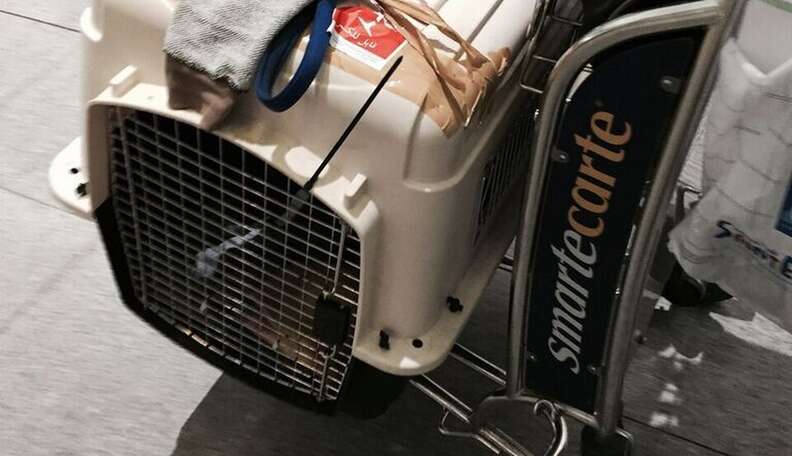 Danner was tense while Lulu was flying from the other side of the world.
"I was both nervous and excited. I was anxious because she was a little dog, and she has no idea what's going on. I was sort of a mess," she confessed, but she couldn't have been happier upon seeing her new family member arrive at JFK International Airport.
"She bounced out of her crate with her tail wagging after 30 hours of travel," said Danner.
Lulu in NYCJessica Danner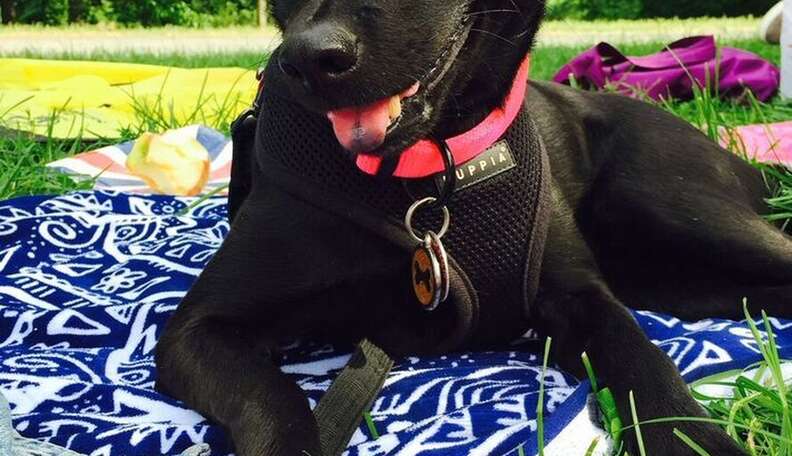 Lulu adjusted to life in NYC with ease. "She was housebroken in a few days; she was such a breeze! She doesn't bark or whine. She loves people," Danner said.
Lulu in NYCJessica Danner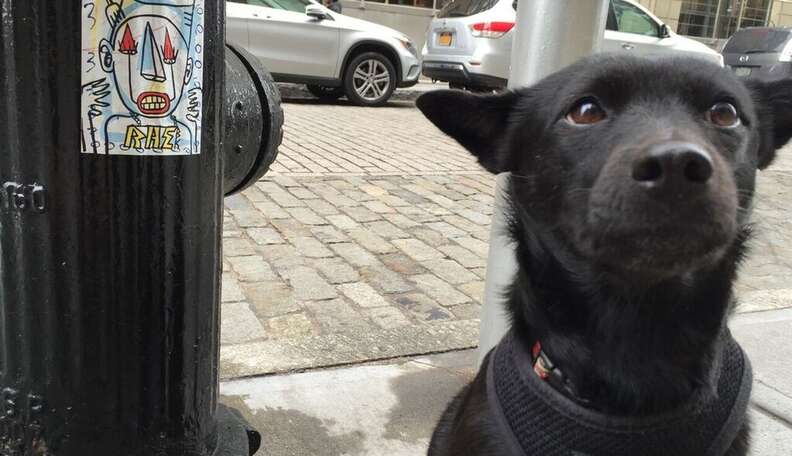 "Maybe she had a bond with someone at the military base; she bonded with me quickly," Danner added. "She just wants to be happy."
Lulu at her new homeJessica Danner
Life for Lulu now means going to work with Danner on the subway, playing with her feline companions at home, chasing squirrels in Central Park and receiving lots of love. Danner can't imagine her life without her furry friend and recommends that people consider overseas adoption.
Lulu and DannerJessica Danner
Like many Asian countries, Thailand has thousands of strays and a culture of adoption is nonexistent, which is why ENP's work is so important.
Last year, ENP Dog Project adopted out 45 dogs, 40 of them going abroad. ENP also runs a spay-and-neuter program, where dogs in surrounding areas are brought in with permission from their owners to be fixed, treated, and cared for at no cost.
Lulu in NYCJessica Danner
The ENP Dog Project is in desperate need of volunteers. Sabrina Pilz, manager of the Dog Project, first came to the park as an elephant volunteer in 2013. She wasn't aware of the dog project, but fell in love with it.
Lulu at her new homeJessica Danner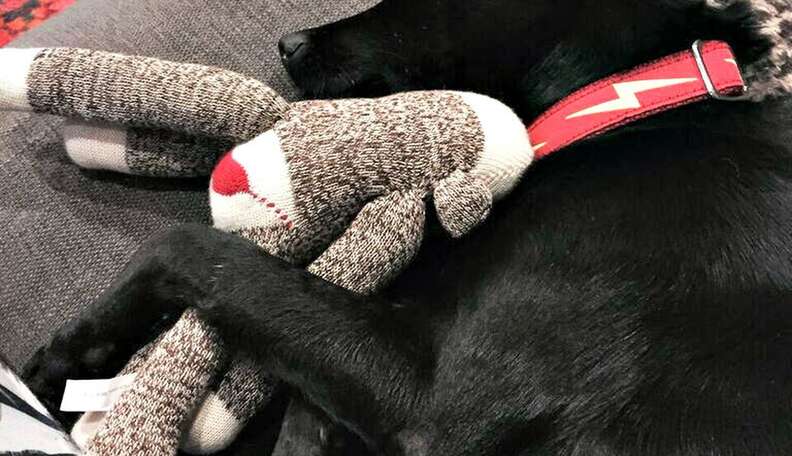 "The experiences you gain here are invaluable and, although it's heartbreaking at times and not suitable for anyone who is easily stressed, it is so rewarding and you get to help so many wonderful animals," Pilz told The Dodo. "And in so many ways they help you in return."
Lulu and Danner Jessica Danner
To learn more or to volunteer, please visit the Dog Project's website.