Caring for a domesticated horse is one thing - but a wild horse is almost like a completely different animal. Wild horses are untamed by humans and live on their own, independent of human help or care. They're interesting animals to love and admire, because you can't ever really get close to them. Fans of wild horses can naturally learn some lessons from them, just by loving these magnificent animals.
Sometimes beauty is best left alone.
Sunsets, forests, volcanoes and other natural beauties are nature-made, which means they are meant to be left alone. Humans may interfere with nature in an attempt to experience it or interact with it, but this can often harm it or take away from its essential beauty.
Wild horse lovers know that the beauty in wild horses is due to their free spirits, and how much they don't need us to thrive. Watching them just being their beautiful selves is one of the best things about loving wild horses.
Change just can't be helped.
When you're attached to something as unpredictable as a wild horse, you get used to change. The only true wild horse, Przewalski's horse, now exists only in captivity. The Przewalski's horse is the only horse whose ancestors were not domesticated. Wild horses roam all over, but the true wild horse has been changed into something else - by us.
The last wild Przewalski's horse was seen in 1968. When you love something that the general population doesn't seem to understand, you learn to cope with change. Even if the change seems unfair.
Not everyone knows how to appreciate beauty.
Loving something so beautiful and free often comes with the realization that not everyone knows how to do this. There are people who, without even realizing it, are trying to make wild horses less wild. People approach wild horses, taking selfies with them, trying to tame them, even capturing them - things that make them not what they're supposed to be anymore.
All you can do is stay educated and help educate others on why wild horses, like most other animals on this planet, belong in the wild.
Resilience is possible, even through immense struggle.
Wild horse roundups are a very real thing. Helicopters are used to "roundup" these amazing creatures, driving them for miles until they reach a holding place, and many die during the inhumane process - many die afterwards when they're sent to slaughter, too. Roundups happen, they are still happening, and they are terrible. But, wild horses are still around.
Despite a major force working against them, they're still fighting, and we could learn a lot from these horses in that respect. Despite their struggles, they are amazingly resilient.
A brief encounter can mean so much.
Sometimes a wild horse will come too close, and you can catch a glimpse, up close and personal, of your favorite part of the animal kingdom. This doesn't happen often - wild horses are meant to live in the wild, after all. But when, or if, it does, the moment means that much more. The encounter, however brief, is bound to be special.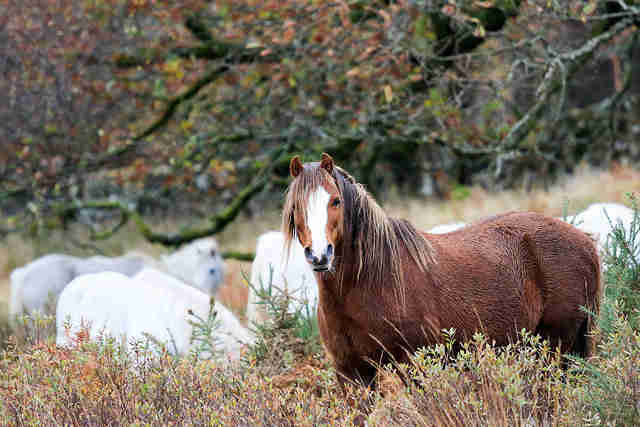 Freedom is everything.
Humans have done so much harm to animals. Between zoos and SeaWorld, there are too many animals in captivity. When you look at these animals, you can see their sadness, their frustration - their defeat.
On the contrary, when you look at a wild horse, that's not what you see at all. You see pride, energy and a zest for life. A wild horse is everything an animal is supposed to be - free.
Check out the American Wild Horse Preservation to learn more about these magnificent animals!