Lost Pit Bull Wanders Into A High School Looking For Help
"He's such a sweet dog and just loves everyone."
A dog who started his day off lost and alone ended his misadventure with more friends that he could count.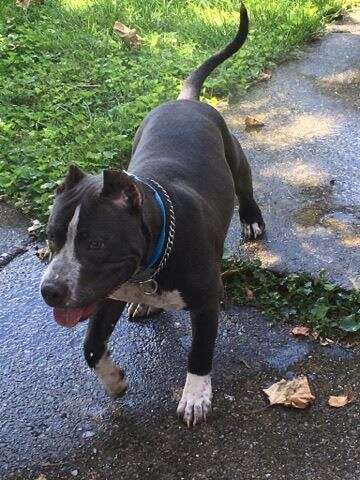 On Thursday morning, Rocko the pit bull managed to slip out unnoticed from the home he shares with his family in Memphis, Tennessee. While he may have been intending to just sniff around out front, Rocko somehow ended up wandering far enough away to get himself lost.
But rather than risk becoming even more turned around, Rocko evidently decided to do the responsible thing. He saw a young man out walking, and figured he would lead him to safety. And sure enough, he did - and then some.
That person was a student from Cordova High School, and captured the moment they met on video.
Sure enough, Rocko not only followed the student to school, he then proceeded to stroll right inside.
As you might imagine, the dog's sudden arrival came as quite a surprise - and a pleasant one at that. All too often, pit bulls like Rocko are just assumed to be dangerous, but it seems the students at Cordova recognized that he wasn't a threat, and kept him safe until help could arrive.
It was around that time that Nichole Geer Roberts, who was dropping her son off at the school, noticed the commotion. She convinced school police to let her take the dog, rather than send him to the shelter, so she could track down Rocko's owner.
And that's what she did.
Roberts took Rocko to the vet to check for a microchip, and in the meantime posted his picture on an online forum for missing pets. It wasn't long before his mom, Campbell, was alerted that he'd been found and arranged for him to be picked up.
That's when she learned about all the new friends her dog had made that day at school.
"He's such a sweet dog and just loves everyone," Campbell told The Dodo. "I'm just so glad he was around people who recognized that and loved him right back!"
Rocko is now back home safe, but he's far from forgotten.
Students from Cordova High were so smitten with their canine visitor that they've started a petition to have him come back, this time for a scheduled appearance.
The sweet pit bull's mom has already given her blessing - and we don't have to ask Rocko what he thinks of the idea.