Rescuers Will Stop At Nothing To Save Lost Dog Stuck In A River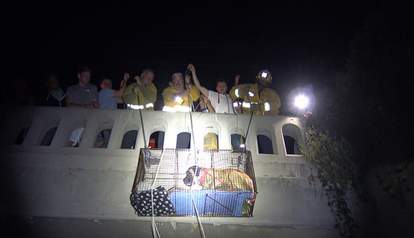 A tourist visiting Los Angeles was passing by the L.A. River when she spotted a large dog stuck by the water. The injured dog was wandering just 100 yards from where the river meets the ocean, and clearly needed help.
Hope for Paws
The woman called Hope for Paws, a rescue in Los Angeles, to come and help the dog, a very large mastiff. When rescuers arrived, they went down to the river, but the dog was extremely fearful and tried to run away from them.
Hope for Paws
"She ran all the way to the water line, and realized that's not going to work for her," Eldad Hagar, founder of Hope for Paws, told The Dodo. "She turned around, and charged towards me. When you have 110-pound mastiff running towards you, barking and growling, it's just not a good thing."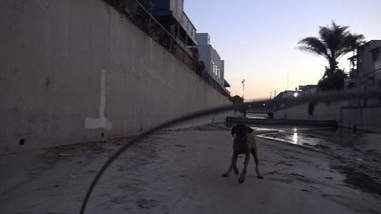 Hope for Paws
As the terrified dog tried to charge at Hagar, he was able to secure her with his gentle snare, but accidentally got it around her muzzle instead of her neck, which has never happened to him before in all his years of rescuing.
"The problem is that there is no good grip on the dog this way and if she started to fight it, she would have gotten away," Hagar said.
Hope for Paws
Worried she might escape again and injure herself further, Hagar had another rescuer carefully approach them and slip another gentle snare around her neck - and thankfully, this time, they were successful.
"Then I knew she was safe," Hagar said.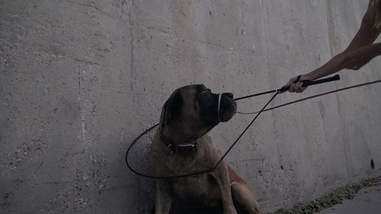 Hope for Paws
Once the dog was finally caught, she immediately warmed up to her rescuers, showing that she was truly a sweet dog - she'd just been very scared initially.
Hope for Paws
While rescuers were trying to catch the dog, a crowd of bystanders had gathered to watch, and someone called the fire department to come and help. They lowered a large cage down to the river in hopes that they could pull the dog back up inside of it.
"During this time I bonded with her, assured her she will be OK with me, and by the time we were ready to go up, she was totally calm and just allowed us to help her," Hagar said.
Hope for Paws
The dog was finally able to be lifted up to safety, and rescuers immediately rushed her to the vet to get the medical attention she so desperately needed.
Hope for Paws
The poor girl was severely dehydrated and had a fractured leg, which was extremely swollen. While at the vet she was scanned for a microchip - and miraculously, she had one.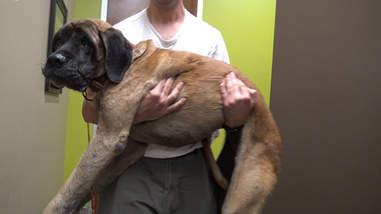 Hope for Paws
It turns out the lost dog's name is Tinkerbell, she's 10 years old and her family had been looking for her since July 3. They're from Arizona and had been visiting California with Tinkerbell when she ran away after being scared by some fireworks.
Tinkerbell was so afraid that she ran as far as possible - and ended up 25 miles away from where she originally was.
Hope for Paws
Once Tinkerbell's leg has healed, her family will make the drive from Arizona to California to finally bring her back home.
If you'd like to adopt a pet of your own, you can check out Adopt-a-Pet.com to get started.