The Moment He Found Out His Dog Was Alive And Safe
After weeks of not knowing if they'd ever see each other again, a dog and her father are back in each other's arms.
Yavapai Humane Society
Yavapai Humane Society
But for a long time, it didn't seem like that would be possible.
It was back in early September when Anthony Battista and his dog, Daisy, went for a hike in their home state of Arizona. Unfortunately, Battista lost sight of Daisy.
She didn't come when he called her. She was nowhere in sight - alone and lost in the woods.
Battista was heartbroken when he lost his dog. He posted photos of her to Facebook in hopes that somebody had found her, but he had no luck.
She had lost a considerable amount of weight, but they immediately recognized the dog in the photo. It was Daisy.
On the very next day, Battista came into the shelter to pick up Daisy.
Yavapai Humane Society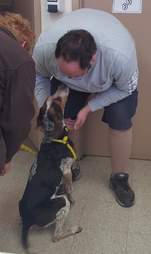 Yavapai Humane Society
"It was a good feeling to be reunited with my dog," Battista commented on the post.
But the story gets even better.
Battista had actually visited YHS every day in the weeks after he lost Daisy, in the hopes that she'd show up. But in the process, he'd met another dog named Nugget.
Yavapai Humane Society
Yavapai Humane Society
"Anthony missed having a dog around so much that he came to us every day," YHS spokesperson Elizabeth Haugan told The Dodo. She explained that while he was looking for Daisy, Battista "fell in love" with Nugget and decided to adopt her.
Now, Battista, Daisy and their newest family member, Nugget, are all together back at home.
Follow YHS on Facebook or visit its website to learn more about how you can support dogs like Daisy and Nugget while they find their way home.