After a spring rain last April, some kind passersby noticed a strange gray bundle running around outside.
It was a tiny fox, and he was hopelessly lost.
"The fox was observed running around for many hours, wet and alone, desperately calling for his family," Lindsay Wildlife Rehabilitation Hospital said. He had lost his mother, and no one knew how.
Lindsay Wildlife Rehabilitation Hospital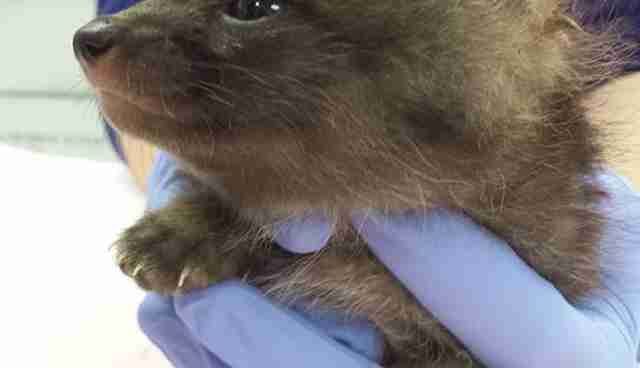 Fortunately the people who found him knew how to handle wildlife. They tried to help the little fox find his den, and looked for other foxes in the area. But when it became clear that the lost baby was totally alone, they bundled the frightened fox up and brought him to Lindsay.
"Such a small baby fox couldn't possibly survive alone in the wild without his parents," Dr. Guthrum Purdin, veterinary director for the center, said in a statement. "I'm grateful someone found him and brought him to the wildlife hospital for care. It was his only chance for survival."
And help came just in time. At just 4 weeks old, he was dehydrated and underweight.
"He was very thin so it was quite probable he had been without mom for a minimum of a few days," said Kathy Jones, a volunteer who raised the tiny fox. "He had a 25 percent increase in his body weight after just one week in my care!"
But Jones and the staff at Lindsay knew what to do. Over the next several months, the little fox was fed and cared for, growing up in the protection of Jones' home - though Jones stayed out of his sight as much as possible so he wouldn't become accustomed to humans.
Lindsay Wildlife Rehabilitation Hospital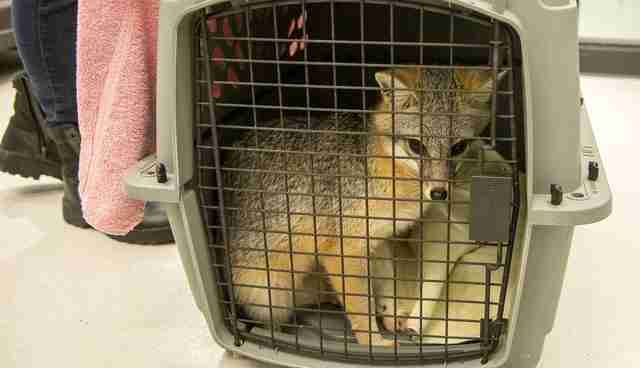 This week the hard work paid off and he was deemed suitable for release. The team packed him into a carrier and brought him back to the hills of Orinda, California, back to the property where he had originally been found.
And he was ready to go. Now lithe and eager, as soon as the cage door was opened the onetime orphan shot away into the trees.
Of course, that sight is the best possible reward for a rescuer.
Lindsay Wildlife Rehabilitation Hospital
"Today, being able to see him back at full strength, grown-up and free in the wild has been absolutely thrilling," Purdin said. "Days like today are why I do this work."
Each spring, Lindsay and other wildlife rescue centers take in thousands of orphaned animals and help them return to the wild. If you'd like to give a baby animal a shot, you can make a donation here.