Wildlife rescuers in Malaysia have been tasked with the job of pachyderm babysitter for two pygmy elephant calves which became lost from their moms. It's unclear how the youngsters got separated from their highly-protected herd -- but they are not lacking in attention as rangers race to track down their family.
Sen Nathan of the Wildlife Department of Sabah says that two-week-old Jimb was discovered earlier this month standing alone near a crocodile infested river, crying for his mother. The other calf, year-old Tun Tan, was reported to authorities in another incident after following plantation workers back to their base, its herd nowhere in sight.
Rescuers collected the two animals and transferred them to a wildlife reserve to be cared for until their parents are located. Both calves are healthy and have been steadily gaining weight.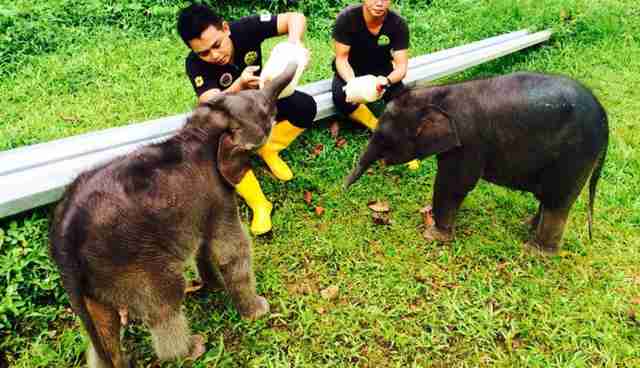 Since elephant mothers rarely abandon their young, Nathan believes the babies somehow got lost. Officers say there is still hope that the babies will resume a normal life in the wild since the calves would usually be looked after by the remainder of the herd if their parents died.
"We need to find the mothers as soon as possible," Nathan tells the Wall Street Journal.
"The longer we wait, the more difficult it will be for the mothers and the babies to bond because of too much human contact. In a group [of elephants], there is not only the mum but also aunties and sisters who look after baby elephants. So why were this babies abandoned?"
Search teams have searched for elephant herds in the vicinity where the calves were found, but have so far been unable to find any.
Pygmy elephants, native to Borneo, are a critically endangered species, number as few as 1,500 -- adding extra urgency to ensuring these two members of the latest generation are returned to the wild.