The story of Lonesome George, once known as the rarest animal in the entire world, is a tragic one. Born in 1910, the Pinta Island tortoise endured decades of misfortune and survived when every other member of his subspecies couldn't. He became a rallying mascot for conservation in the Galapagos Islands until his dying day, June 24, 2012.
NPR's Skunk Bear science Tumblr, run by the brilliant Adam Cole, created a fitting eulogy to the centenarian, whose subspecies became extinct the day George died. The video follows George's heartbreaking story. The other Pinta Island tortoises died off when they were eaten by sailors visiting the island. A herd of introduced feral goats also decimated the island's vegetation, a food source that the tortoises relied on. Likely unable to survive on Pinta Island, George was relocated to the Charles Darwin Research Station on Santa Cruz Island in 1971, and presented with a slew of female tortoises of other similar subspecies in the hopes that he would mate. But George failed to successfully mate, and he carried his rare genes along with him to tortoise heaven.
The video will go down in tortoise history. We can only hope that the refrain rings true:
"Spread your angel wings and fly, go and meet your tortoise lady on that island in the sky."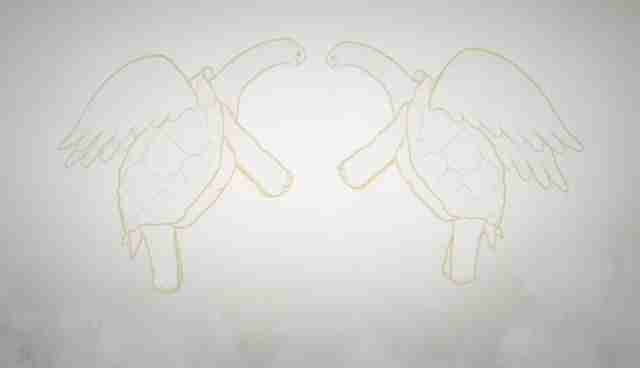 Lonesome George's body was recently on display at the American Museum of Natural History in New York.
George was not the only Galapagos tortoise in peril. There are now 10 living subspecies of the original 15 Galapagos tortoise subspecies; all are considered vulnerable by the International Union for Conservation of Nature. Just like the plight of Lonesome George, these subspecies face threats from introduced animals like goats and rats, as well as exploitation for meat and habitat loss from development. But now, aggressive conservation efforts are aiming to repopulate tortoises in the Galapagos - an area teeming with rare biodiversity that Charles Darwin once called "a little world within itself."
See this page for more information about efforts to save the Galapagos tortoises.