Zoo Rejects Coat Donated To Keep Lonely Elephant Warm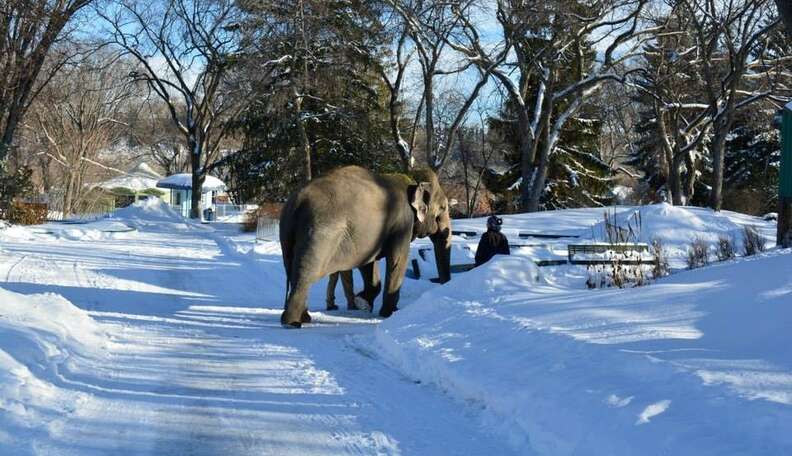 A furor has erupted over a Canadian zoo rejecting an elephant-sized coat donated for their sole pachyderm Lucy in the midst of a brutal northern winter.
Although the gift of a coat for Lucy at Edmonton's Valley Zoo was not intended to be a solution to Lucy's captivity-and-climate-induced health issues, it was a compassionate gesture by elephant advocates to help ease the ill effects of the cold during her outdoor walks.
Asian elephant Lucy, born in tropical Sri Lanka and sold to the Valley Zoo as a calf, trudges along snowy paths during her daily walks at the frozen zoo, her arthritis and foot disease slowing her every step. New video taken Saturday, Feb. 7 of 39-year-old Lucy in minus 15 degrees Celsius /5 degrees Fahrenheit temperatures has advocates outraged at the zoo's refusal to clothe Lucy in her donated insulated coat:
The issue is underlining the need for Lucy to live in a warmer climate better suited to elephants than cold Canada, where she is the northernmost elephant in North America. The snowy, often sub-zero Edmonton winters force Lucy to spend the majority of her time in winter inside her barn, which has resulted in arthritis and foot disease - the top killers of captive elephants.
(Photo: Friends of Lucy)
A group of elephant advocates concerned about Lucy pooled their funds to have an elephant coat created for her by the GoatCoatShop in upstate New York. Last Thursday three Lucy supporters delivered the bespoke waterproof, insulated coat to the Valley Zoo:
(Photo: Friends of Lucy)
Rejection of coat gift
But by day's end, the zoo's spokeswoman Debi Winwood issued a statement rejecting the coat, saying, "This is not an item required for Lucy's well-being or care."
This despite the fact that sanctuaries in Thailand are protecting their rescued elephants with identical coats this winter: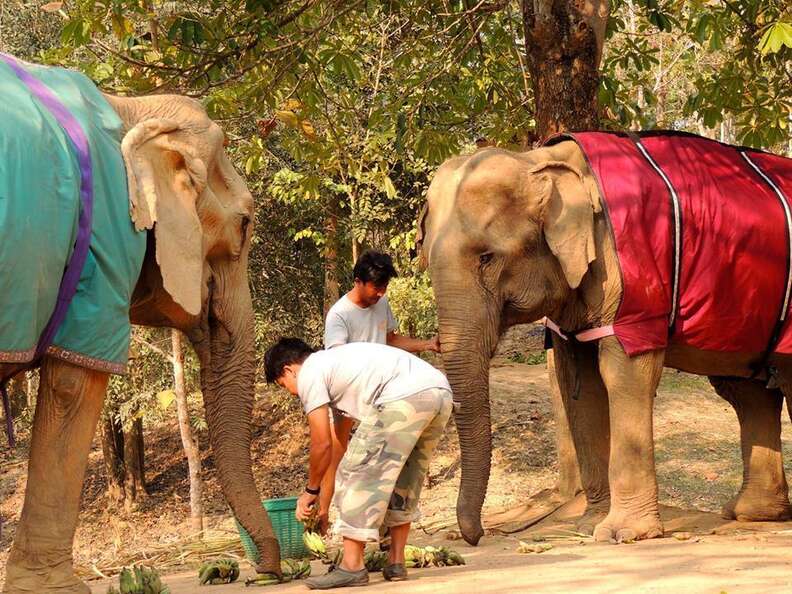 (Photos of BLES elephants courtesy Katherine Connor, Boon Lott's Elephant Sanctuary)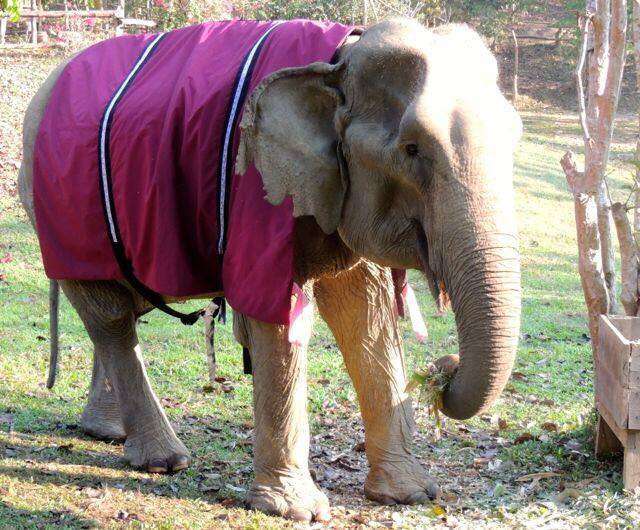 Katherine Connor, founder of Boon Lott's Elephant Sanctuary (BLES), has cared for frail elephants for 13 years. She's deeply concerned about Lucy and says, "I was extremely surprised, not to mention confused, when I read that the people in charge of Lucy's care think she is okay in the snow and below freezing temperatures Canada is well known for.
Elephants normally have a life span of around 60 years. Lucy is 39, but she will not live much longer if she continues to face the harsh weather conditions she is forced to endure now. Her body was not designed to deal with such low temperatures. She is an Asian elephant and it does not snow in Asia. That alone should set alarm bells ringing!"
Thailand's rescued elephants wear coats to protect them from far less cold than Lucy experiences. Thailand's winters aren't nearly as harsh as Edmonton's: Thailand's average February temperatures range from 32 degrees Celsius / 90 degrees Fahrenheit to lows of 16 degrees Celsius / 60 degrees Fahrenheit, while Edmonton ranges from highs of only minus 2 degrees Celsius / 28 degrees Fahrenheit in the daytime to minus 15 degrees Celsius / 5 degrees Fahrenheit at night.
Katherine is offering to advise the Valley Zoo on elephant husbandry and welfare. "Lucy needs the coat. It is that simple," she says. But her bigger concern is the climate Lucy lives in: "Once Lucy dies from the extreme weather conditions, what will Edmonton Zoo do then?" she asks.
(Photo: Friends of Lucy)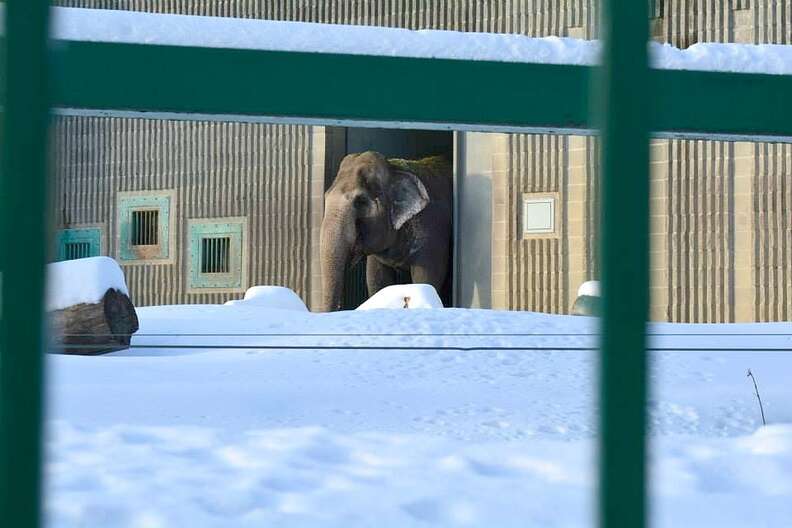 Ms. Connor's points about Edmonton's winter climate are echoed by Friends of Lucy and many advocates, who would like to see Lucy transferred to a warmer-climate sanctuary like PAWS in California or The Elephant Sanctuary in Tennessee.
While a coat may shield Lucy somewhat from the cold and wind chill during her walks, the only true solution for Lucy is sanctuary - for her to live in a warmer climate with the ability to socialize with other female Asian elephants, make her own decisions on where to roam, improve her health from walking vast acres of soft earth, and to have a sanctuary's stellar veterinary care and 24/7 monitoring.
The zoo's denial of a coat for Lucy has not only sparked outrage amongst elephant advocates on social media, it has them emailing Edmonton's Mayor and City Council, since the city owns the zoo. Advocates and experts want an independent evaluation of Lucy's health which could clear the way for Lucy to go to a U.S. sanctuary.
For years, the Valley Zoo has claimed Lucy is fine at the zoo, but suffers an undiagnosed "respiratory condition" that precludes any travel for Lucy - while refusing to allow an independent exam to substantiate this claim.
Advocates hope the new city administration will be more compassionate about Lucy's well-being and open-minded about the options available to her. An independent exam and transfer to a US sanctuary is offered at no cost to the city.
The last three surviving Toronto Zoo elephants were safely transferred to the PAWS sanctuary in 2013 and are showing marked improvements in their health, vitality and quality of life.
Lucy deserves the same retirement at a U.S. sanctuary as the Toronto Zoo elephants. As Canadians, those of us at Friends of Lucy can certainly attest to the fact that Canada is no place for elephants.