Lolita The Lonely Orca Is Still Stuck In A Too-Small Tank Alone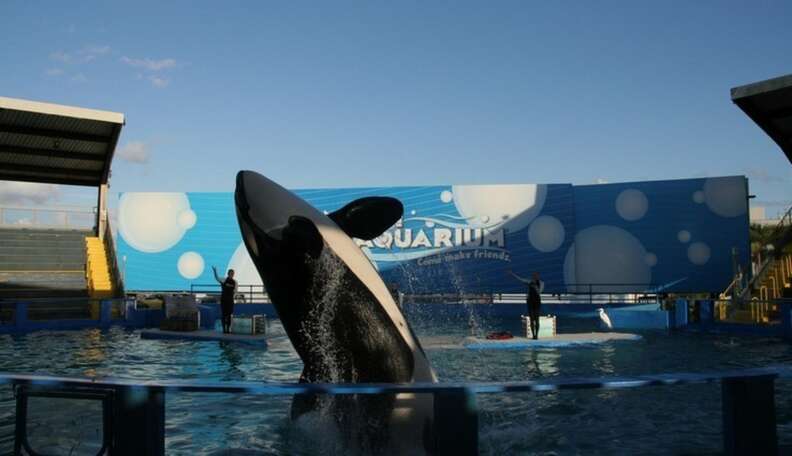 It's not easy to cram 44 years of animal misery into one nine-minute documentary, but filmmaker Daniel Azarian has done just that.
Azarian's documentary short, "A Day in the Life of Lolita," which will be screened this Thursday at the Big Apple Film Festival, tells the story of one of the loneliest killer whales in the world, who lives in the smallest orca tank in America, at the Miami Seaquarium.
"The intention was to keep it under 10 minutes so it could be spread via social media and a good amount of information could be disseminated in a fairly short amount of time," Azarian told The Dodo.
Azarian first heard about Lolita shortly after the 2010 death of SeaWorld Orlando orca trainer Dawn Brancheau in 2010. "I never really had given orcas much thought, but the story hit the news and made me curious, so I searched online and learned the plight of Lolita, which simply broke my heart."
Lolita's story has broken many hearts.
In August 1970, at just four years of age, Lolita, who was initially named Tokitae, which means "nice day" in the Coastal Salish Indian language, was captured during the infamous Penn Cove roundup. Some 80 whales, comprising nearly every member of the Southern Resident orca community, were ensnared. Most were released, but seven youngsters, including Tokitae, were sold to aquariums around the world. She is the only living captive who survived that roundup.
Tokitae was sent to Miami, renamed Lolita and put in the Seaquarium's small pool as a playmate for a young orca named Hugo, who was taken from Puget Sound in 1968. Hugo would often send high-pitched shrieks across the aquarium grounds, and repeatedly banged his head on the tank wall. One time he broke a viewing window and sliced off the tip of his rostrum on a glass shard.
The two whales performed together for ten years, until March 1980, when Hugo slammed his head into the wall for the last time. A bottlenose dolphin then became Lolita's only animal companion.
 Not long after hearing about her story, Azarian met Dr. Ingrid Visser, a killer whale scientist who heads New Zealand's Orca Research Trust and is a world-renowned anti-captivity advocate.
"I'd never met her in person - I had never seen an orca for that matter - and she graciously asked if I would join her on her trip," Azarian said. "We decided to film her visit, simply to document and have a record of it."
One noteworthy aspect of their footage was clear evidence that Seaquarium was in violation of OSHA regulations regarding trainers and their proximity to orca tanks - the film shows one trainer in the water and "riding" Lolita for performance. Last July, OSHA ordered the Seaquarium to prevent its trainers from "wet work and dry work performances" in the pool and the facility had to pay a fine of $7,000.
About a month after filming, Azarian reviewed the footage of Lolita floating alone in her pool. "I didn't feel sadness. I didn't feel emotion. I felt dead," he said. "Lolita was just bobbing there, and appeared to be so out of it. I realized we had something potentially very powerful and at the same time very simple on our hands."
The film follows Visser as she visits the Seaquarium. "It's not just a mission of passion, it's a mission of compassion," she says to the camera. "It's a tragically small tank."
Given a chance to speak with the Seaquarium's owner, Visser adds, "I'd say, 'What where you thinking? You wouldn't treat your children that way. You wouldn't treat your dog that way."
As the film notes, the federal Animal Welfare Act mandates that orca tanks must be at least 48 feet in each direction. Lolita's tank is just 35 feet wide. Her story was also told in the 2003 feature documentary, "Lolita: Slave to Entertainment."
Lolita's tragic circumstances have inspired a worldwide movement to return her to her native waters. For years, the Orca Network has promoted a plan to retire the whale to a bay on San Juan Island and, perhaps, eventually reunite her with her family. Last year, the Orca Network, Animal Legal Defense Fund, PETA and others petitioned the National Marine Fisheries Service (NMFS) to include Lolita with her Southern Resident Killer Whale community on the Endangered Species List, meaning she could not be kept in captivity. In January NMFS agreed, opening a 60-day public comment period, after which it has up to 18 months to make a decision.
"The time has come for us to evolve and realize it is no longer ethical to keep these sentient creatures in what basically amounts to a sea circus," Azarian said. "Hopefully, we are in for a change, but it is still a long road ahead."
Visser, in the film, makes the point in a more poignant fashion. "The only way Lolita is going to retire otherwise," Visser says, "is if she dies."