World's Loneliest Orca Is Now Being Hidden Here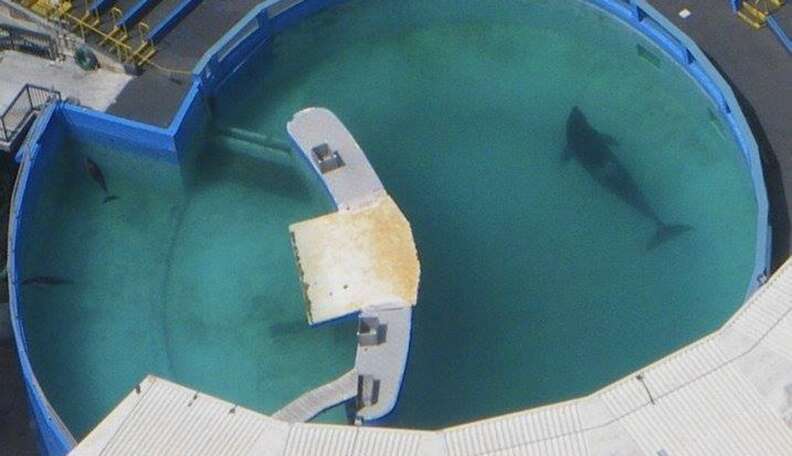 Many animal advocates are wondering what's going on with Lolita, the loneliest orca. Miami Seaquarium abruptly cancelled the whale shows that normally feature Lolita, an orca who was captured off the coast of Washington in 1970 and transferred to Florida, where she's been living by herself ever since.
The park posted this on its website:
Due to routine maintenance at our Killer Whale and Dolphin Stadium, there will be no Killer Whale and Dolphin show until further notice. Guests can still enjoy the Golden Dome Sea Lion Show, Top Deck Dolphin Show and Flipper Dolphin Show. We apologize for the inconvenience.
Amid wild speculation that Lolita had been moved to a smaller tank, a spokesperson for the Miami Seaquarium confirmed to The Dodo that she is, in fact, still in her regular tank:
The Whale and Dolphin Stadium is currently closed for routine maintenance to the stadium's seating. Lolita's habitat is not affected by this maintenance project. The Killer Whale and Dolphin Show is expected to resume for the Holidays.
It's little consolation that Lolita remains in her tank, seeing that it's the smallest of any orca tank in the U.S. Though the federal Animal Welfare Act requires orca tanks to be at least 48 feet in each direction, Lolita's tank measures only 35 feet wide.
She's also been without the companionship of other orcas since another whale named Hugo died in 1980. In the wild, orcas are highly social animals, forming tight bonds with the other members of their pod for their entire lives.
This video gives a sense of what a normal day is like for Lolita:
Miami Seaquarium declined to share photos of Lolita in her tank, but a CBS4 Miami helicopter captured one from above: