Dog Returned To Same Shelter 10 Years Later Finally Has A Real Home
"He's living inside, probably for the first time in his life."
When Lobo first showed up at a California animal shelter, he had the whole world ahead of him. A fresh-faced puppy, the chances of him finding a real family were better than most of the shelter's residents.
And sure enough, back in 2006, Lobo was quickly adopted.
About 10 years later, the same person who adopted him returned him to the Lancaster Animal Care Center - the very place he had started. Almost unrecognizable. His fur was chronically matted. He was desperately underweight. He may have spent his life in a yard with little human contact.
The puppy, once so flush with life and possibility, seemed little more than the husk of a dog. And once again, he posed for an old familiar mugshot.
"It was the original owner who brought him in," a shelter worker told The Dodo last month. "All the owner stated was that he was ill."
It seemed that owner took the best years of Lobo's life, before returning him to the shelter. Even more tragic, those years were brutally wasted.
And on his second stint at the shelter, Lobo's chances of getting out had taken a turn for the bleak.
This time, he wasn't a bright-eyed puppy looking to begin a fresh life with a family.
At the shelter, Lobo failed a temperament test - a short exam that assesses an animal's attitude. As a result, he was put on a rescue-only list, meaning no individual member of the public could get him out of there - only an approved rescue organization.
Even for an organization, the ragged senior dog with severe health issues would be a tough sell.
But for all that baggage - emotional, physical and even spiritual - that had been heaped on Lobo's shoulders, one California woman was more than willing to ease his burden.
The woman, who does not wish to be named, approached The Little Red Dog, a group based in Orange County, California.
She proposed a plan to foster and care for Lobo. And soon after that, the group pulled Lobo. He left the shelter a second time. For a real home. And this time, for good.
"She really wanted to foster him," PJ Rosch of The Little Red Dog tells The Dodo. "And, honestly, when fosters don't step up, it's really bleak for all of the dogs on the (euthanasia) list."
It's an especially extraordinary act, considering Lobo's whole life was no longer ahead of him.
"He isn't healthy," Rosch says. "He was groomed. He weighed 46 pounds. He should be twice that size. He had rocks in his stomach, probably because he was starving."
And there are the seizures. Lobo has a history of them. Just a week into his foster care, he had another serious attack.
Even more concerning, a veterinarian suspects Lobo may have cancer in his leg.
"Frankly, I don't know why charges weren't brought against this person because his dog was in such bad shape," Rosch says.
But when a dog leaves a shelter for a home, no matter how nightmarish his existence had once been, the slate has an almost magical way of getting wiped clean.
Lobo was given a new name - Teddy Roosevelt. And in no time, Teddy had a chance to regain the puppyhood that had been stolen from him.
He bonded with a little boy at his foster home.
"From the very first night that he was pulled, the foster had him around her son and he was great," Rosch says. "He actually loves her son a lot."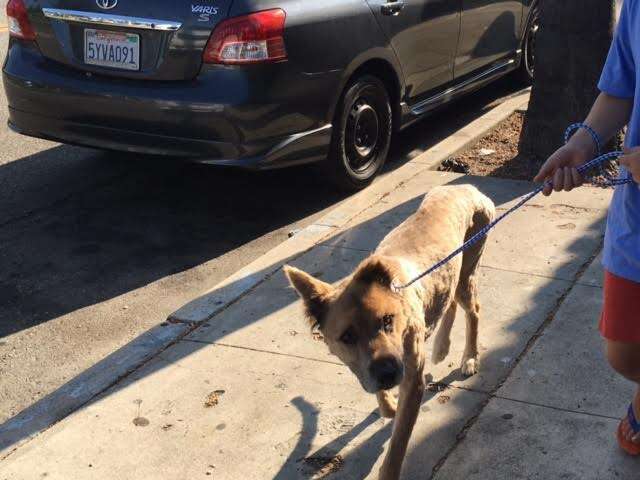 And Teddy discovered the simple joys of a kiddie pool on a hot summer's day.
"He lays in it several times a day and really just kind of falls asleep in there," she says. "He loves that."
Rest easy, little prince. While Rosch admits the road before Teddy remains long and uncertain - it may be months before he's deemed ready for adoption, if he's ready at all - he's never going back to that shelter.
"If Teddy's with us for the next five or 10 years, great, he will be loved. If he's only with us for a short time, he's way more comfortable. He's living inside, probably for the first time in his life.
"It's a good thing. And we feel good about it."
As should we all. It's not every day a dog gets a second chance so late in life. Or an extraordinary family steps up to, literally, wash all the pain away.
Want to support The Little Red Dog Rescue and its mission to give dogs like Teddy a second chance? Consider making a donation here.