Iguana Refuses To Accept That He's Not A Dog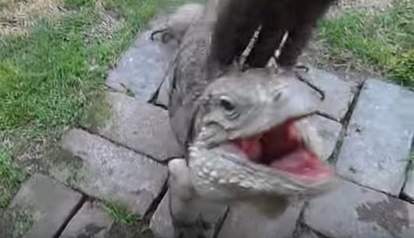 <p><a href="https://www.youtube.com/watch?v=p-zGIS-WWZQ" target="_blank">Youtube/Dave Durham</a></p>
Not to get too deep or anything, but I'm sure we've all gone through a time in our lives where we're not really sure who we want to be. Sometimes we wish we were someone else - and this lizard knows EXACTLY how that feels.
A man has a pet Cayman Brac iguana who, let's be honest, is actually a lot more like a pet dog.
When Buddy the iguana's human calls to him when he gets home from work, he comes running ... just like a dog would.
Buddy is eager to be pet and given attention ...
... And demands more petting and attention when his human stops.
Watch out, dogs. Buddy might be trying to steal your jobs.
Check out the full video of Buddy greeting his human below!