Little Dog Escapes Meat Trade And Loves Each New Day
<p> North Shore Animal League </p>
Every year, tens of thousands of dogs are inhumanely transported from Thailand to neighboring countries where they are butchered by cruel methods as part of an illegal meat trade. However, the Soi Dog Foundation and the Thai government are actively working to end this appalling practice, and Animal League America is doing its part as well. Recently, we opened our hearts and our doors to three beautiful dogs who were saved from certain death - two of which who we've already placed in loving, responsible homes. The third of this international trio, Mabel, is still here at our Port Washington, NY facility and waiting to find her perfect match!
Photo: North Shore Animal League
"The fact that Mabel came to us from where she did it's no wonder she's a bit shy and hesitant at first, but we've really been working on her socialization skills," said Manager of Rescue Services, Cindy Szczudlo. "Even though she's been through a lot, she's a very sweet, affectionate little dog once she feels comfortable. I'm hoping someone will see that and fall in love with her."
Photo: North Shore Animal League
Mabel is a petite little girl, who is very smart and full of life. She loves to run, jump and play, so she should go to a home with an experienced dog owner who can regularly supervise her. A responsible adopter who is patient and can help her become acclimated with her new surroundings would be the best fit for this beautiful pup. Since Mabel came from such harsh conditions, she can be very shy at first, with people and other animals, but once she warms up she is super affectionate and friendly. She would do best in a home with children 12 years of age and up, other dogs are okay as long as a meet-and-greet is arranged at our campus.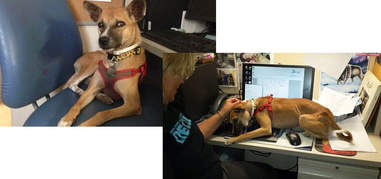 Photo: North Shore Animal League
One Animal League America team member who has developed a very strong bond with Mabel is Rescue Associate Laura Arendt. Laura said she fell in love with her the minute she met her and now they are inseparable. She hopes her new best friend can find the loving home so she can officially start her new life! "I just love her so much. So much so, that if my situation were different and I could adopt her, I would in a heartbeat," said Laura. "I take her for her walks at least once a day to help her with becoming more social and unafraid. She's made such a drastic improvement since she's come here in April, it's been amazing to watch. She's such a loving dog once she forms a bond."
Photo: North Shore Animal League
If you're interested in meeting Mabel and learning more about this international rescue, visit us at our adoption center at 25 Davis Avenue in Port Washington, NY, or contact Manager of Rescue Services, Cindy Szczudlo at 516-883-7900 ext. 272, or by email at cindys@animalleague.org. Please reference adoption #IR252.
Mabel would also be an ideal candidate for our Foster to Adopt Program, which would allow both the potential adopter and the pooch time to adjust before making a long-term commitment. If you are interested in our Foster Care Program, contact Foster Care Manager Tara Guclu at 516-883-7900 ext. 352, or by email at tarag@animalleague.org.